How to Celebrate the Holidays When Dementia is in the Picture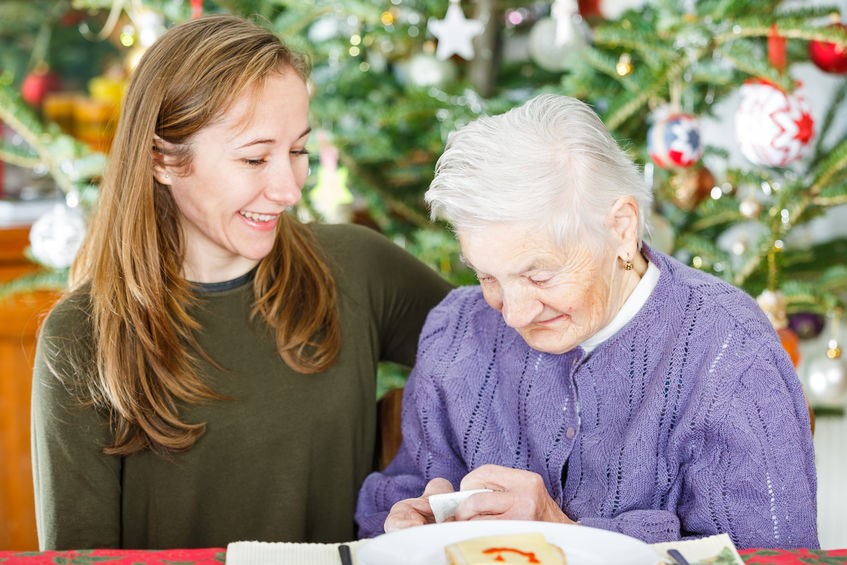 From wrapping presents to planning the perfect holiday mixer, all around the world, people are busy preparing for the holiday season. However, holiday preparations become complicated once Alzheimer's or dementia enters the scene. The pressure to create the perfect holiday scene for your loved one living with dementia can be overwhelming. The guilt can be intense, and many families struggle with how much time and energy to devote to their aging loved one with dementia. Others struggle with deep feelings of sadness as they think about how present their loved ones were this time last year, and how much their dementia has progressed over the course of the year. Feelings of anger and bitterness can even creep in as extended families gather for the holiday season. Those who are primary caregivers to their aging loved ones with dementia can feel bitter towards family members that live out-of-town and aren't able to offer more help. This holiday season, if you're feeling guilty, sad, frustrated, or angry, know that you are not alone. Here are a few tips to help guide you through the holiday season while caring for a loved one living with dementia, so that everyone can enjoy the holidays.
Stick to Their Routine
A person living with dementia thrives on routine. It's what's most familiar and comfortable to them. Their routine also helps them navigate their day. However, when the holidays arrive, suddenly routine is thrown out the window. Pattens of routine breed calmness, while spontaneity in routine breeds anxiety for someone living with dementia. Serve meals at their usual mealtime to prevent outbursts due to hunger. If they take a daily nap, give them space to do so. Ensure they are home and in bed at their normal bedtime. While there must be some flexibility in routine around the holiday season, help your loved one navigate the holiday season by sticking as close to their routine as possible.
Provide a Place of Respite
If you expect a large crowd at your holiday gathering, provide a calming place of respite for your loved one with dementia. Large and loud crowds can overstimulate someone with dementia. Prevent them from feeling overstimulated and exhausted by giving them a place to nap or rest. Find a room away from the crowd that's quiet and calm. Provide a basket filled with their favorite snacks, water, and a few magazines. Set up a television in the room or offer to play calming music for them as they rest. Tell the grandkids that this room is off-limits. If you notice they're looking weary, escort them to their room and encourage them to rest for a bit.
Celebrate on Their Terms
For someone in the middle to late stages of dementia, their demeanor is often unpredictable. You can have the best intentions and want to include your loved one with dementia in every holiday celebration. Yet, if they're having an off day, forcing their participation is only going to cause more harm than good for all involved. Instead, plan ahead this holiday season and be prepared to celebrate when your loved one is ready. Visit earlier in the day to avoid aggressive behaviors that are triggered by the sun setting. Call ahead before you come to gauge their mood. Keep their gift in your car so you can present it when the moment is right.
Keep Them Busy
Finally, another way to help navigate the holiday season when dementia is in the picture is to keep your loved one busy. Familiar household activities are calming and comforting for someone with dementia. It can help them cope with the larger crowds and noisy environments. It also helps keep them oriented to the season and gives them a sense of purpose. Include them as you decorate for the holidays. Ask them to help you wrap presents. Give them a broom to sweep the floors. Set out a basket of clean laundry for them to fold. Let them set the table or prepare an appetizer. Give them tasks that are suitable for their abilities and supervise as needed.
When it comes to Alzheimer's and dementia care, Visiting Angels Sarasota prides ourselves in being the best of the best. Our exceptional companion caregivers make it possible for those living with dementia to remain in the comfort of their own home. Research continues to show that familiar surroundings play an important role in the well-being of those with a dementia diagnosis. Our specialized Alzheimer's and dementia care services allow your loved one to remain where they are most comfortable and happy. If you are the primary caregiver of an aging loved one living with dementia, consider giving them the gift of our amazing senior in-home care services. Allow us to take on some of the burden you shoulder. Please contact us today so that we can learn more about your situation.