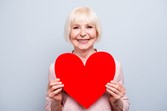 It's Never Too Late to Prevent Heart Disease: Six Simple Habits to Adopt Today
According to the American Heart Association, approximately 85.6 million Americans have one or more cardiovascular disease types. Heart disease is currently the leading cause of death for both men and women, regardless of race or ethnicity. The aging process increases the risk for older adults to suffer a heart attack, stroke, heart failure, or develop heart disease. After all, the heart is an organ and can become weak or damaged because of plaque that has built up over the years.
Although some older adults may feel helpless when it comes to reversing the choices they made in their youth, the good news is that it's never too late to prevent heart disease. In honor of American Heart Month, here are six simple habits older adults can adopt today to prevent heart disease.
Move More
Staying active goes a long way in preventing heart disease. The heart is a muscular organ and benefits significantly from exercise. Physical activity improves the heart's ability to pump blood throughout the entire body. Regular exercise lowers blood pressure and increases levels of good cholesterol or HDL cholesterol. The American Heart Association recommends 150 minutes of moderate aerobic activity each week. Make a habit of moving more throughout the day, as every minute of moderate aerobic activity counts. Always consult your primary care physician before starting a new exercise routine.
Quit Smoking
According to the American Heart Association, smokers are two to four times more likely to develop heart disease than nonsmokers. If you smoke, you double your risk for stroke. Older adults who smoke can reduce their risk for heart disease, repeat heart attacks, and death by half if they give up smoking. Research supports the toxicity of smoking for both smokers and nonsmokers exposed to secondhand smoke. If you smoke, kick the habit today and lower your risk for heart disease. Seek advice from your doctor for ways to reduce and resist cravings.
Monitor Your Blood Pressure
Also known as the "silent killer," high blood pressure often has no symptoms. When left unchecked, high blood pressure can damage your arteries, causing the flow of blood and oxygen to your heart to decrease. Older adults need to establish the habit of regularly checking their blood pressure. If you don't have a home blood pressure monitor, purchase one today. Talk with your doctor about how to use your monitor, or read these tips provided by the American Heart Association. Ask your doctor what range is healthy for you and what to do if your numbers become too high.
Monitor Your Blood Glucose Levels
Other numbers you should monitor regularly include blood glucose levels. Diabetics have a greater risk of developing heart disease and stroke, even when their glucose levels are under control. If you have diabetes, you should already be in the habit of checking your blood sugar throughout the day. Take your medications as prescribed by your physician and make healthy lifestyle choices to keep blood sugars in a normal range.
Eat Heart-Healthy Foods
Fill up on foods that support your heart's health and limit foods that cause more damage than good. Make a habit of eating more fresh fruits and vegetables, whole-grains, and lean protein. Reduce habits of unhealthy snacking or indulging in sweets too frequently. Be conscious of your sodium intake, as older adults are more sensitive to salt. Make a habit of reading food labels. Avoid foods that are high in trans and saturated fats, added sugars, and salt.
Cope with Stress
Although research is unclear about a correlation between stress management and a decreased risk of heart disease, what is clear is that stress does affect behaviors. Certain responses to stress can increase heart disease risk, such as overeating, excessive drinking, smoking, and/or disrupted sleep. Make a habit of coping with stress in healthy ways. Talk it out with a trusted friend, go for a brisk walk to clear your head, or find calm in a ten-minute meditation.
Whether you want to add more movement to your day or need help coping with stress, Visiting Angels Sarasota is here for you. Our senior home care services are already enhancing the lives of many older adults in the Sarasota region. Whether it's assistance with meal preparation or the reassurance of a weekly visit from a friendly, familiar companion, we can create a customized senior home care plan that fits your routine and needs. Just like it's never too late to prevent heart disease, it's never too late to get started with in-home care. Please contact us today by calling 941-952-5800.