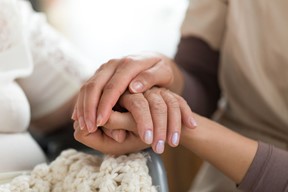 Stroke Recovery: Five Tips for the Caregiver of a Stroke Survivor
Approximately 795,000 people experience a stroke in the United States every year, according to the Centers for Disease Control and Prevention. The CDC reports that stroke is a leading cause of long-term disability. More than half of stroke survivors over the age of 65 are affected by reduced mobility. Strokes can be life-changing, instantly robbing an older adult of their independence.
Strokes affect the lives of a stroke survivor and the lives of close family members. One study estimated 3.5 million family members are providing care for stroke survivors without compensation. Many stroke patients discharge from the hospital setting to an inpatient rehabilitation setting, where they receive care around the clock. Once discharged home, most stroke survivors then rely heavily upon their families for assistance. Regardless of whether the family caregiver has had previous experience caring for older adults, the demands of a stroke survivor can be extremely overwhelming and exhausting.
May is National Stroke Awareness Month. It's a great time to learn about the signs of stroke and preventative measures to take to lower your risk and empower the family caregiver of a stroke survivor. Here are five tips for the caregiver of a stroke survivor.
Understand Recovery Looks Different for Everyone
Recovering from a stroke looks different for each stroke survivor. Various factors contribute to the recovery process, including the scope and severity of the stroke episode, the willingness of the stroke patient to participate in rehabilitation, and the strength of their support network. Progress may seem slow, especially during the initial days after the stroke. It's best that both you and your loved one take recovery one day at a time.
Support Them Through Advocacy
One of the best ways you can offer support to your loved one is to become their advocate. Attend doctor appointments so that you can hear first-hand recommendations and next steps. Meet your loved one's therapy team and share any preferences that might help them establish a strong rapport. Communicate with their care team and speak up when something doesn't seem right to you.
Join a Support Group
Consider joining a support group for family members of stroke survivors so that you, too, receive the care and support you need. You can learn how other family caregivers are coping, as well as gain perspective. Facilitators often coordinate educational seminars that share the latest research on preventing another stroke or proper caregiving techniques. Best of all, you'll have a safe place to express feelings of frustration, sadness, and even guilt.
Establish a Routine
Once your loved one is settled at home, it's important to establish a routine so that they don't lose momentum in their recovery. Encourage your loved one to get up and dressed by a certain time each day. Schedule time for them to complete exercises as prescribed by their therapists. Promote everyday self-care as another way to increase fine motor function. Allow them to do as much as they can for themselves to regain a sense of power and independence.
Seek Professional Help
Finally, seek the professional help provided by Visiting Angels Sarasota. We can refer a skilled caregiver that is right for your loved one's care needs. While your loved one is receiving care, you are welcome to participate alongside or step away to take care of yourself. At Visiting Angels Sarasota, the client remains the center of everything. Your home care provider will not dictate your loved one's schedule, such as when it's time to shower or eat. Our job is to provide the assistance your loved one needs to manage their day with ease. To learn more, please contact us today to schedule your free consultation.