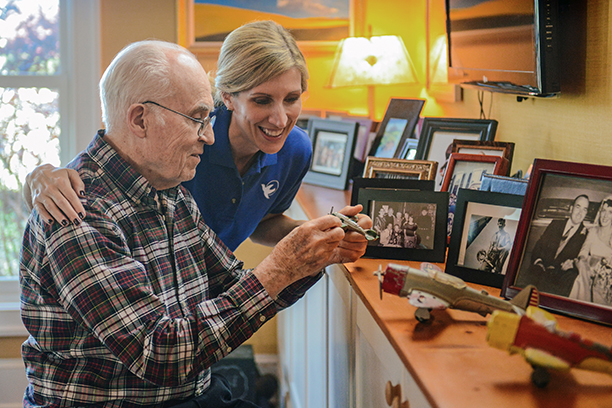 Reviews
August, 2014
My sister, Debbie, is in her mid-fifties and has lived in a wonderful Group Home in Charlotte for almost 10 years now. I live in Canada and there is no one in Charlotte that is now able to provide the extra love and support that Debbie deserves and needs.
Until I discovered Visiting Angels…
Kevin Daniel from the start has been sensitive, helpful, professional and always gone the extra mile. For example, I returned to Charlotte to visit Debbie in the first week of December but could not be with her for Christmas day. I didn't contact Kevin until mid-month and he was able to provide caregivers for Christmas Day and Christmas Eve. They shopped, went out to eat and one of the caregivers even invited Debbie to her home to relax and watch television. Debbie couldn't be happier and I sleep well knowing that she is cared for.
Thank you, Kevin and all of the amazing Visiting Angels Staff!!!
Sincerely,
---Anne G. - Alberta, Canada
Dear Lydia and Kevin,
Thank you so much for all your help arranging caregivers for my husband. Visiting Angels filled a huge need and you always sent good and capable people.
Thanks again,
---Jackie G.
We want to thank Visiting Angels for helping to ease our mom's passage through the end of life. We could not have done it without you. Your tireless dedication to meeting our needs was a lifesaver, especially your ability to handle our last-minute schedule changes to provide the care we really needed.
And your ability to fit caregivers to the circumstances, not only logistically, but from a character standpoint as well, was most welcome.
We wish you, your wife, and Visiting Angels much success going forward. Please feel free to use us as a reference.
Appreciatively,
---Heather and Monty G.
Kevin,
Yes, Ruby will be staying with me for several days. As soon as I know when she will be going to her home, I will notify you. And in case I haven't said this recently : Thanks for all you all do !!
Jo and Pat are just like having a sibling here to help me ! (My brother and sister are in Tampa and NY) What a comfort for me. Your angels are not only caregivers to my Mom, they are caregivers to me !
What a blessing!
---Lynda
Visiting Angels has been a wonderful asset for the Matthews area, and for our family particularly. My mother is in the medical area of a continuing care retirement community, so has her daily medical needs met. However, the staff there, like in most centers, is not able to meet all her needs for one on one conversation and companionship. We heard about Visiting Angels from the social worker on staff, as a relatively new alternative to the current agencies that offer home health care. Unlike those agencies, Kevin Daniel, owner of Visiting Angels, came out to meet my mother and me personally to talk about her needs and to assess the type of caregiver she would want. Next he came with a person he felt would be a good fit, to meet us and answer any questions we had. His personality is perfect for his job and his compassionate nature made me feel assured that this would be a good situation for our family. His wife Lydia, who is co-owner, also came to meet us and they have both come by to see how things are going. Overall, the personal attention we have gotten from Visiting Angels far surpasses any we have found from other local agencies providing home health care. We are so pleased with the two women who have come daily on a regular basis to stay with my mom and keep her company, we hope to keep doing business with Visiting Angels as long as my mom's needs continue. I know that whatever changes occur in her condition, they will have caregivers who can meet her needs.
---Barbara H., NC
Living in New York with a invalid sister living in Charlotte, NC and having exhausted all avenues to find reputable, professional, caring and dependable help for her, I finally turned to Visiting Angels. I was in touch with Kevin Daniel, RN, director of Visiting Angels in Matthews, NC, 704-841-1160 and found him to be extremely helpful. He provided the help that was so desperately needed for my sister. For the first time, after having gone through many caregivers, I finally have peace of mind as my sister is now receiving the care and companionship through the caregiver he selected to assist her. She is able to stay at home in her own surroundings for which I thank Visiting Angels.
---Irene B. Smithtown, NY
From the moment I first spoke with you, you eased my mind. Your immediate and compassionate response to our family's need was AMAZING--and over a weekend!! I will indeed write a five star recommendation on the internet for you--have not gotten to that yet. But--I promise!! Looking forward to any more updates, I love the detail--I can imagine our mother enjoying the walks, the gardens, and, most of all, the respectful attention to them both.
---Blessings, Sarah
Kevin,
Thank you again for your team of companions for Mom. Both Jasmine and Niasia are precious young women, whose concern and care for my mom is evident. They have made this transition period a bit smoother and more pleasant for us all!
---Ginger Douglas Ott
Serving Southern Mecklenburg & Union Counties
Visiting Angels
SOUTH CHARLOTTE, NC
1510-B Orchard Lake Dr
Charlotte, NC 28270
Phone: 704-841-1160
Fax: 704-943-0504