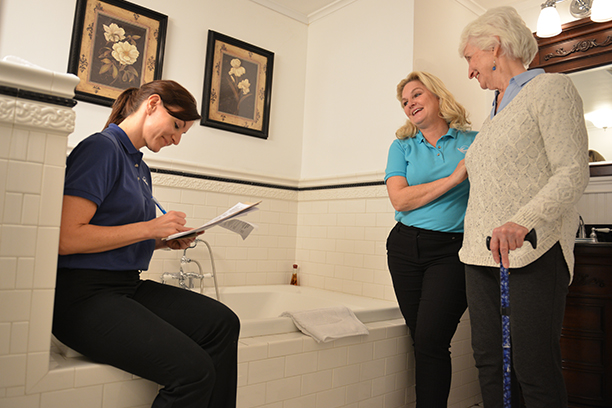 Caregivers
Caregivers are defined as anyone who tends to the personal needs of another person. For many, caregiving is second nature and easy to do for those they love. So, it seems natural, when an aging loved one needs assistance, a friend or "family caregiver" would jump in to assist with essential tasks, such as grocery shopping, running errands, helping around the house, etc.
These responsibilities can make it easy for family members to become overwhelmed and stressed. Balancing elderly care with raising a family, working, and managing other duties can quickly become more than one person can handle.
If you are a primary family caregiver who is feeling overwhelmed, you are not alone. Professional care providers are available to ease your burden and help you take a break from your senior home care responsibilities and refocus on your personal relationship with your loved one.
Professional Caregivers from Visiting Angels

Our professional care workers form the backbone of Visiting Angels®. These dedicated individuals enhance the lives of elderly adults and the family members who support them. As a result, we're incredibly proud of each member of our senior care team—not only because of what they do, but who they are.
Our team members help seniors live at home comfortably with confidence and dignity. When seniors struggle with tasks essential to their well-being, they don't have to worry about losing their independence. Instead, they can turn to our team to provide personal care services. By developing relationships and personal connections, our care providers ensure older adults never feel alone when facing the challenges of aging.
We also offer a support system for families. Sometimes they need a break themselves but worry about leaving their loved ones alone. Our compassionate care providers put those worries to rest by ensuring your senior loved one will be safe and comfortable at home.
Learn More About Our Caregiving Team

Visiting Angels help your loved one live safely on their own terms, even when age-related issues arise. The caregiver you choose should be capable, trustworthy, and compassionate. Our dedicated professionals will provide you peace of mind knowing your loved one's decision to age in place is the right choice with Visiting Angels.
We have established a comprehensive vetting system that ensures every individual we hire meets these essential criteria. Learn more about our traits and qualities below.
Skilled and Knowledgeable
Visiting Angels has been recruiting and hiring care professionals for over two decades. We understand how important it is to hire a professional who can provide the high-quality care you need and require.

More About Our Experience
Integrity
Our care providers have knowledge and skills relevant to the role but also possess integrity and high character. That's why we take a character-first approach to hire individuals who will deliver our essential
home care

More About Our Character
Respect and Compassion
Seniors deserve to be cared for with respect and compassion from those who consider their social and emotional well-being. Our caregivers create deep bonds with clients and become close companions.

More About Our Home Care Providers
Selecting the Right Caregiver for Each Senior
Visiting Angels takes a thoughtful approach to the caregiver matching process that considers unique aspects of the senior's living situation and personal preferences. This allows us to ensure a good fit right from the start.
Here are some of the factors we take into account when selecting care providers for seniors:
Personality
Personal chemistry is important in all relationships, and a senior's relationship to the care aide is no exception. That's why we take the time to get to know seniors on a personal level before making a match.


Scheduling
Care should be integrated into your loved one's life and focus on their daily routine and scheduling preferences. As a result, we always make sure to pair seniors with aides whose availability matches their needs.


Skills
When seniors require specialized care, their caregiver must have the ability to offer reliable and personalized support. Our matching process considers every aspect of the senior's care plan to accommodate personalized requirements.


Family Approval
We have faith in our ability to connect seniors with care workers who will make a positive impact on their lives. However, we understand families know their loved ones best. Thanks to Select Your Caregiver®, families always have the final say in their loved one's care.
We pave the way to a long-term relationship that enables seniors and their families to confidently approach this new life chapter. With Visiting Angels as their compassionate companions and reliable partners in daily living, seniors can enjoy a new lease on life.
Serving Scranton, Waverly, Pittston, and surrounding areas | Lackawanna, Wyoming, Luzerne, and Columbia Counties.
Visiting Angels
SCRANTON, PA
2200 Stafford Ave #600
Scranton, PA 18505
Phone: 570-800-5270
Fax: 570-800-5269