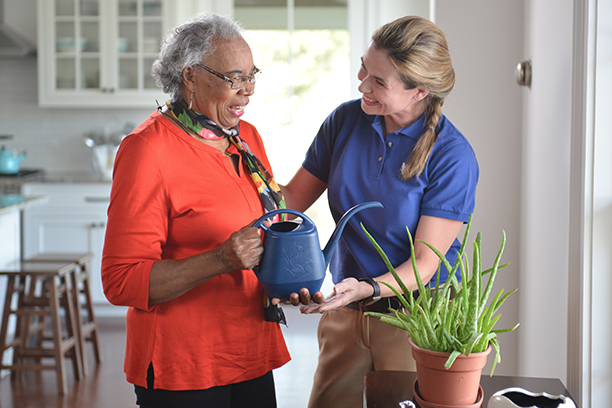 Alzheimer's Care Services in Seattle
Managing the care of a loved one with Alzheimer's or dementia is no small feat. It takes a lot of careful planning and problem-solving, even on the best of days. It gets even more difficult on days when things don't go exactly as planned. That responsibility can wear down even the most dedicated caregiver, particularly when their loved one also experiences fits of anger or violence related to their illness. Visiting Angels® Seattle WA understands just how difficult it can be. That's why we offer non-medical Alzheimer's care services that can help both seniors with Alzheimer's and their families to cope with memory loss and all of its symptoms.
When is it Time for Alzheimer's Care Services?
It is never too early or too late to think about bringing in Alzheimer's care services for your loved one. However, it is an especially important option to consider if your relative has been exhibiting increased anger related to their Alzheimer's or dementia. Without adequate support, the aggression of an elder with Alzheimer's can pose a real danger to both their loved ones and themselves. In the moment of an outburst, it is easy for an untrained individual to respond with a knee-jerk reaction, which can worsen the situation for both the elder and their family caregiver. That's when you can turn to Visiting Angels Seattle WA for help.
Some things to keep in mind when dealing with an elder with Alzheimer's:
Try to identify the source of their distress and, if you can solve the problem, do so
Never punish or chastise an elder with Alzheimer's for an aggressive outburst
Never respond to violence with force
Use a soothing tone of voice and speak slowly
Don't attempt to reason or argue with the individual
Remain calm and, if possible, remove yourself from the situation
How Can Visiting Angels Seattle WA Help?
At Visiting Angels Seattle WA, our caregivers not only understand the various triggers for anger in an individual with Alzheimer's, but they also know just how to help. Our caregiver companions are skilled at recognizing the signs of anger in an elder before it turns into a full-blown episode and can help to de-escalate the situation.
If you think that Alzheimer's care services could help your loved one, call Visiting Angels Seattle WA today to schedule a free consultation and learn more.
Serving the Seattle Area
Visiting Angels
SEATTLE, WA
1455 NW Leary Way #400
Seattle, WA 98107
Phone: 206-258-3680