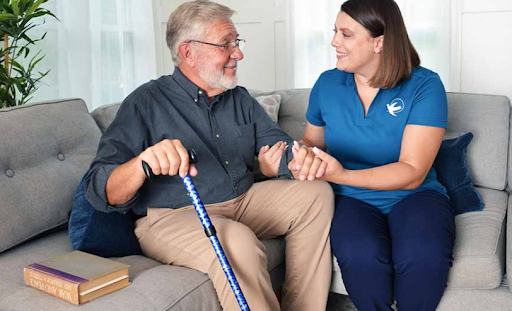 Is In-Home Caregiving the Right Career for You?
The American workforce saw a significant resignation in the last year because many individuals sought more rewarding careers. Professional caregiving is one industry that continues to thrive. Not only does the act of caregiving give employees a sense of purpose, and working with Visiting Angels offers flexibility and autonomy.
If you're one of the millions of Americas seeking a more rewarding career, you may want to consider in-home caregiving.
The Role of an In-Home Caregiver
As a professional in-home caregiver, your job is to assist seniors with nonmedical tasks such as light housekeeping, meal preparation, medication reminders, laundry, and transportation around town. Some caregivers also help with personal grooming services like assisting clients in showering, bathing, or using the bathroom. You may even learn specialized care practices to work with clients living with chronic conditions such as diabetes or dementia.
Your overall goal as a caregiver is to help your client feel safe and comfortable aging at home. By helping with household tasks, you're reducing their risk of falling and injuries. You're also giving them a sense of independence and allowing them to continue living at home instead of moving to an assisted living facility or senior community.
Qualities of Successful Caregivers
Caregiving is a rewarding career, but it's also a challenging one. Not every person works well as a professional caregiver. We see the most success in people who are compassionate, empathetic, good communicators, dependable, and driven.
Compassionate-Compassion is what drives people to help others. Compassionate caregivers are sensitive to the needs of others and motivated to ease them.
Empathetic- Aging comes with many physical and mental changes. As a caregiver, you need to show your clients empathy, especially when they might express sadness, anger, or frustration.
Good Communicator- You need good communication skills to build a relationship with your client. Having good communication skills is also vital in making a client's family feel secure in your abilities to care for their loved one.
Dependable- Your clients rely on you to get through much of their day. You must be a reliable presence in their life, which means showing up on time for shifts and completing tasks to the best of your ability.
Driven- Caregivers are most successful and appreciated when they take the initiative to help their clients. You shouldn't stick to the bare minimum. If you notice additional tasks around the home that you can help your client with, ask them if they want your assistance. Don't be afraid to go above and beyond for your clients.
Working with Visiting Angels
If you're ready to start your career as a professional caregiver, the team at Visiting Angels would love to connect. We provide flexible scheduling, training, and competitive pay to our employees. We seek part-time and full-time caregivers to provide services to clients in The Villages, Lady Lake, and Fruitland Park, Florida. If you're interested in joining our team of professional caregivers, you can complete an online application or give us a call at 352.643.0702.