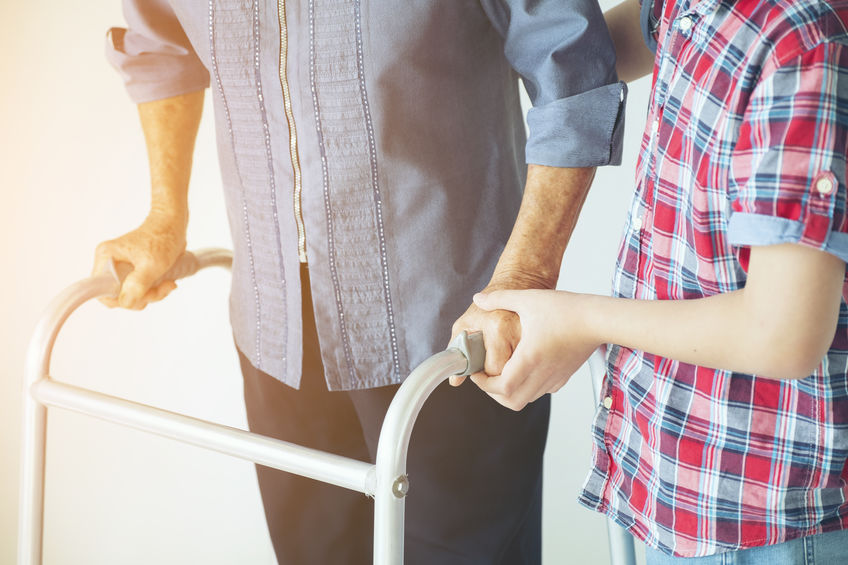 Four Tips for the Family Caregiver of a Stroke Patient
May is National Stroke Awareness Month. Strokes are the
fifth leading cause of death
for Americans and the leading cause of adult disability in the United States. Strokes can happen to anyone at any time, although older adults are at a greater risk for stroke.
If your aging loved one has suffered a stroke, then you already know the burden of their care needs. Whether they spend months rehabilitating at a short-term care facility or they receive therapy at home, many stroke patients often need physical therapy to rebuild muscle strength and coordination. Some stroke patients need to relearn how to swallow, talk, or write. After months of treatment, some may never return to their baseline. Strokes can take away a person's independence in a matter of minutes. The future can look grim, especially in those first few hours or days after a person suffers a stroke.
Someone who suffers a stroke needs a strong support network so that they have the strength and courage to face each new day. Those who suffer repeated strokes may need a family member to support them more regularly. If you are a family caregiver to a loved one who's had a stroke, here are four tips just for you.
Practice Being Present
First and foremost, your loved one needs you to be present. Being present allows you to recognize any nonverbal cues that can guide you as you provide care. Look for nonverbal signs of pain, such as grimacing or a furrowed brow. Monitor for other signs of emotional trauma, such as depression or anxiety. Post-stroke depression is common and can significantly affect the person's ability to recover. If you suspect depression, schedule an appointment with your loved one's primary care physician to make a plan.
Understand Recovery Looks Different for Every Stroke Patient
Strokes can range in severity, depending on where in the brain it occurred and how much of the brain was affected. Previous lifestyle factors and family support contribute to how quickly someone can bounce back from a stroke. Understand that recovery from a stroke looks different for each individual. Be patient with your loved one as they recover. Give them the support and care they need now. Learn their limits and resist the urge to push them too far.
Know When to Enlist Outside Help
Caring for an aging loved one who has suffered a stroke may require a lot of effort and take more time. Juggling their care needs and appointments while trying to keep up with your own life is a challenge for even the most organized person. You may need to enlist outside help if you plan to be a permanent family caregiver for your aging loved one. Whether it's another family member who can take care of laundry and groceries or a professional caregiver who can assist with bathing and toileting, having someone else will only help ease the load of caregiving.
Join a Support Group
Finally, seek additional support for yourself by joining a stroke support group. Support groups not only offer you support and encouragement, but they can be a wealth of resources. Many facilitators offer educational seminars to share the latest research advances or creative ways to adapt to the home environment. Best of all, support groups are safe places to express feelings of frustration, sadness, or guilt.
If you are a family caregiver to a loved one who has suffered a stroke, know that
Visiting Angels Sheboygan
is here to support you. We understand that the follow-up care that your aging loved one receives post-stroke can play a huge role in their recovery and in preventing future strokes. We offer a comprehensive approach to senior home care personalized to your loved one's individual needs. Whether it's help with a shower or a companion to keep them company while you run errands, our ability to provide a wide range of care sets us apart from other home care companies. Getting started is as easy as
contacting our office
by calling 920-221-1000.