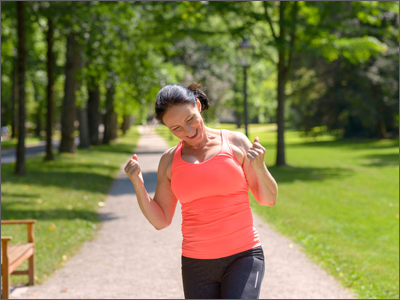 How Seniors Can Stay Active When It's Too Hot Outside
The hot, humid summer weather is here to stay, putting a damper on many older adults' active lifestyles. As temperatures soar and humidity lingers, extreme weather conditions can cause potential safety risks for older adults. The National Institute on Aging warns adults over 65 about their higher risk for heat-related illnesses, such as heat stroke, heat exhaustion, heat cramps, and sunburn. Not only does the heat and humidity pose a threat to older adults who want to maintain an active lifestyle, but it can also drain seniors of their energy even before they begin their day.
Being active reduces the risk of heart disease, stroke, type 2 diabetes, and some cancers in older adults. It can also help improve a senior's mood, as well as prevent cognitive decline. With a bit of precaution and planning, seniors can maintain an active lifestyle in any season. Here are a few tips to help seniors stay active when it's too hot outside.
Beat the Heat
Plan your workout or recreational activity around the hottest time of day. This is typically between the hours of 3 P.M. and 4:30 P.M. On hotter days, note that the heat can linger well into the evening hours. In addition to planning around the high temperatures of the day, also plan around the sun. Sun rays are powerful between the hours of 10 A.M. and 4 P.M. Prevent heat-related illnesses by pursuing outdoor recreation before 10 A.M., before the sun's rays intensify. Likewise, delay outdoor recreational activities until after 7 P.M. on the hotter days, when the heat of the day begins to wane.
Increase Hydration
Seniors are already at risk for dehydration as their thirst response diminishes with age. This means that they need to be conscious of increasing their water intake during heat waves. Older adults are more affected by summer heat because their bodies become less efficient at regulating temperature. Seniors don't sweat as much as younger adults. Their bodies also store fat differently, which further complicates their body's ability to regulate heat. Regardless of your activity level, ensure that you ward off dehydration by drinking water at meals and throughout the day. If you plan to head outdoors, take water with you. Drink before, during, and after your activity.
Slow Down

Living an active lifestyle doesn't necessarily mean that older adults always need to exert maximum effort. Summer is the perfect season to slow down and listen to your body. Shorten the duration and slow the pace of your favorite aerobic activity to give your body time to catch up. If you feel tired or dizzy, stop immediately. Pursue active rest, like meditation or yoga, on the hottest days of the week. Slowing down doesn't mean that you're giving up on living an active lifestyle. It means that you recognize the risks of pursuing certain activities in the heat and are choosing to be smart about how you go about active living.
Choose Appropriate Attire
Before heading outdoors, take a closer look at your outfit. Darker colors and heavier fabrics absorb heat from the sun and can leave you feeling like you're wrapped in a blanket. Lighter colors and lightweight clothing are more appropriate for hotter weather. Choose clothes that are loose and light, allowing air to circulate over your skin. Also, choose clothes that wick away sweat, which aids in keeping you cool. You can even find UV protection clothing available at most athletic wear clothing stores. Choose a hat that helps wick away sweat and keeps your body shaded while you're out in the sun. And don't forget to apply sunscreen before spending time outside, even in the earlier hours of the day. Slather on a broad-spectrum sunscreen with a high SPF to protect all exposed skin, including your face, hands, chest, neck, and ears.
Visiting Angels Sheboygan is here to lend a hand on those hot summer days. We offer a comprehensive approach to senior home care that is customized to seniors based on their needs and preferences. Our caregivers are professional, dedicated, and compassionate and have helped thousands of older adults live safely and happily in the comfort of their own homes. Whether you need an encouraging companion to help you stay safe on your summer walks or are looking for more personal assistance at home, we are here for you. Let us help you maintain your active lifestyle through the remainder of the summer season and beyond. Please get in touch with us by calling 920-221-1000 and schedule your free consultation today.