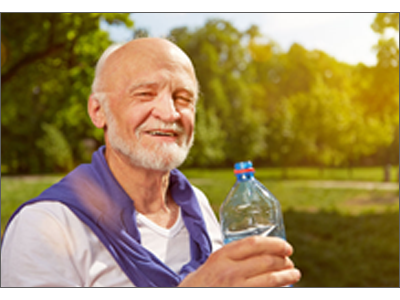 Sun Safety Tips for Seniors
The arrival of the summer season is often a welcome change, especially after a cold, harsh winter. However, summer also means hotter temperatures and higher humidity. The summer season can present other challenges for older adults, causing them to spend too much time inside. Too much time spent inside is detrimental to our health. Not getting enough sun exposure can lead to a vitamin D deficiency. Older adults who stay indoors more regularly are less active, which can lead to weight gain. Staying indoors can even lead to feelings of anxiety, depression, or restlessness. It's evident that even during the hot, summer months that older adults need some exposure to the sun.
Yet, too much time out in the sun can also pose risks for older adults. Adults over the age of 65 are more at risk for heat-related health problems, such as sunburn, dehydration, or heat stroke. Many older adults lose the ability to regulate their own body temperature effective, due to advanced age or chronic medical conditions. Some common prescription medications that many older adults take to manage their health conditions can further complicate body temperature regulation. Some seniors may think that the risks of spending time in the sun outweigh the benefits of some sun exposure during the summer season.
If you are an older adult who is hesitant about spending time in the sun this summer, know that you can safely enjoy the great outdoors if you take a few precautions. Here are four sun safety tips for seniors to help them navigate the summer season.
Be Aware of Dehydration
Many older adults neglect to drink water simply because their thirst sensation diminishes with age. Older adults often don't even realize that they are thirsty. This, and the fact that more body fluids are lost due to sweat during the summer months, can lead to an assortment of health problems in the summer, including heat-stroke. Stay hydrated this summer by being mindful of your risk for dehydration. Aim to drink between six to eight glasses of water each day, even if you don't feel thirsty. An easy way to increase water intake is to drink a glass of water before each meal and snack. If you're an active older adult, plan to drink even more water to replace fluids lost through excessive sweat.
Be Aware Risk for Sunburn
Many seniors are in the habit of skipping sunscreen, thinking that they'll only be outdoors for a short amount of time. However, the American Academy of Dermatology, (AAD), recommends wearing sunscreen, no matter your age. Older adult skin has less fat and water, causing it to appear thinner. Thinner skin offers less protection against the sun's harmful UV rays. To prevent sunburn and skin cancer, the AAD recommends applying sunscreen at least 15 minutes before outdoor activity. Choose a broad-spectrum sunscreen, which offers protection against both UVA and UVB rays.
Be Aware of Risk for Overheating
Many seniors are guilty of wearing thick cardigans or sweaters during the summer months because they often feel colder, even when it's hot outside. Thicker materials trap heat, putting them at risk for heat stroke. Instead, senior should choose clothes more suitable for the summer season. The right clothing can prevent sunburn and help prevent heat stroke. Choose loose shirts and pants made from lightweight, breathable materials. Moisture-wicking material can help older adults regulate their body temperature and reduce their risk for heat-stroke. If you still feel cold, add lightweight layers that can be peeled away as soon as you begin to feel warm.
Be Aware of the Peak Hours of the Day
The sun's rays are strongest between the hours of 10 a.m. and 4 p.m. When the sun's rays are at their strongest, skin is more likely to burn, and the risk of heat stroke is also elevated. Older adults should minimize their time outdoors during the peak hours of the day. As much as possible, plan your day around the sun. Participate in outdoor activities earlier in the morning or later in the evening, avoiding outdoor activities during peak hours of the day. Use the weather forecast as a guide and run errands on the cooler days of the week. When the heat index is high, plan to stay inside where air conditioning is readily available.
One final tip sun safety tip is to partner with Visiting Angels Sheboygan. If you, or your aging loved one, needs additional resources to stay safe in the sun, we are here to help. We provide families with respite care, friendly companionship, personal care, and more. We can check in with your aging loved one during the summer season to ensure they are staying cool and safe. Our caregivers can escort them on a walk before or after the peak hours of the day and keep them company indoors when the temperatures are high. To learn more about our senior home care services, please contact us today by calling 920-221-1000.