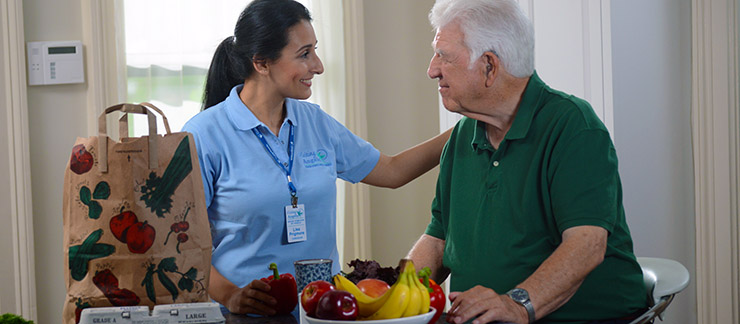 Healthy Habits for Seniors to Keep Sharp
Maintaining healthy habits can play a huge role in enhancing the well-being of seniors and their overall quality of life—physically and mentally. Research has shown a healthy routine can sharpen the minds of aging adults and reduce their risk of depression and cognitive decline.
According to a 2022 study in JAMA Psychiatry, adults 65 and older who rose before 7 am and stayed active during the day were less likely to experience depression symptoms. The study also found they performed better on cognitive tests that measured memory and thinking.
Although the research does not prove that staying active conclusively prevents mental decline or depression, the findings indicate that staying physically, mentally, and socially active can benefit seniors.
Personalized Care and Companionship

Professional senior care from a reputable home care agency can help your senior loved one remain active, healthy, and independent through activities like participating in a favorite hobby, attending a social event in the community, or walking together around the neighborhood.
In addition to offering opportunities for engagement and socialization, professional home care can help your senior maintain or cultivate healthy habits by encouraging them to:
Stick to a routine
Familiar routines provide a sense of comfort and predictability that keep older adults engaged, happy, and healthy. Whether your loved one enjoys a cup of coffee first thing in the morning, an afternoon stroll, or a calming bedtime environment, a Visiting Angels' caregiver can help them with the daily rituals they enjoy.
Get plenty of sleep
Many older adults attribute sleep problems to normal signs of aging. However, Visiting Angels can help your senior feel safe and secure while establishing a bedtime routine that promotes a good night's rest.
Eat healthy
As your loved one ages, their appetite and tastes may change. Certain health conditions such as diabetes, heart failure, or kidney problems may require them to follow a special diet. Visiting Angels can assist with grocery shopping and meal preparation personalized to your loved one's tastes and needs.
Engage in a variety of activities
Visiting Angels can help your older adult engage in various activities that address their social, emotional, and physical needs for stimulation — all based on their unique preferences. An in-home professional caregiver will get to know your senior's likes and dislikes and suggest activities that pique their interests.
Healthy habits are essential for people of any age, but these routines can significantly impact the health and wellness of your loved one.
Visiting Angels Can Promote Healthy Habits for Your Senior
Visiting Angels, a leading provider of senior home care, offers companion care and personal care as well as specialized services for individuals with Alzheimer's disease or dementia. If your loved one needs to maintain or improve their health and wellness, Visiting Angels' dedicated in-home care can help them remain engaged, healthy, safe, and comfortable at home.
Learn more by scheduling a free home care consultation and receive answers to your questions about in-home care.