Senior Care in Sioux City, IA: When You Feel Guilty Asking For Help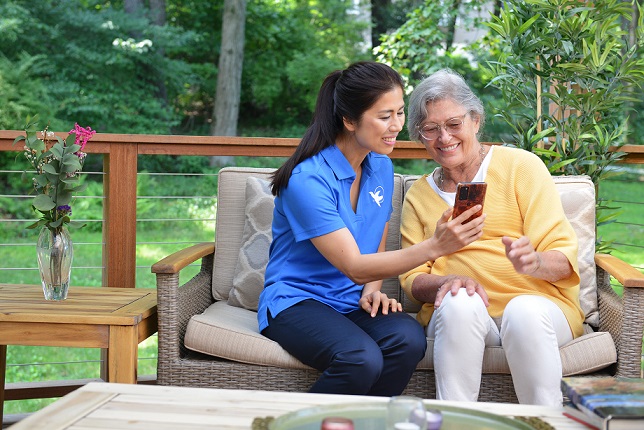 Do you feel overwhelmed and exhausted caring for your aging loved one, yet guilty at the thought of seeking outside help? At Visiting Angels® Siouxland, our senior care team in Sioux City is all too familiar with this highly undeserved sense of guilt that many new clients have. We want to help show you that this guilt is based on faulty beliefs and entirely unjustified.
Two Main Faulty Beliefs Are Behind Caregiver Guilt
I should be able to handle this myself. This idea is based on an admirable sense of duty and commitment, but is entirely illogical. As our loved ones age, their needs increase. Adult caregivers usually have many responsibilities besides caring for their loved one, so even when the scales begin to tip a little, it can cause a lot of needless exhaustion, worry, and stress. None of this, by the way, is good for your loved one because it's not good for you. Reaching out for help to family or an outside care agency is a responsible and loving choice.
They don't want anyone else helping besides me. While this may initially be true, in our experience, even the most hesitant seniors come to form a special bond with their professional caregivers and look forward to their visits. They quickly realize that having outside help actually makes them feel like less of a burden to family. It can also be much more comfortable having a professional assist with more personal tasks like toileting, bathing, and grooming. Most seniors don't enjoy having their grown children take on these responsibilities anyway.
About Our Senior Care in Sioux City
At Visiting Angels Siouxland, we're known for providing personalized and fully customized care that is caring, compassionate, and professional.
It all starts with our fully-vetted caregivers who were chosen among the area's best to represent the high-standards we hold dear, like respect, dignity, empathy, and patience.
Our locally owned and operated team of senior care professionals are here for you and your loved one in Sioux City whenever you need us. We can help as little or as much as you need–from just a few hours per week to full 24/7 care, if you need us.
We're here to assist with a wide range of in-home care needs, such as:
Mobility assistance
Meal preparation
Medication reminders
Dignified bathing and grooming
Incontinence aid
Light housekeeping chores
Transportation to and from local destinations and appointments
And much more
Our Senior Care Service Area
We are extremely honored to provide our well-respected senior care to our local community members in Sioux City, Siouxland, Northwest Iowa, Spencer, and the surrounding areas.
Don't let unjustified guilt prevent you from doing what's best for both you and your loved one. Reach out to our senior care team in Sioux City and let us help you keep your loved one living safely and happily at home.