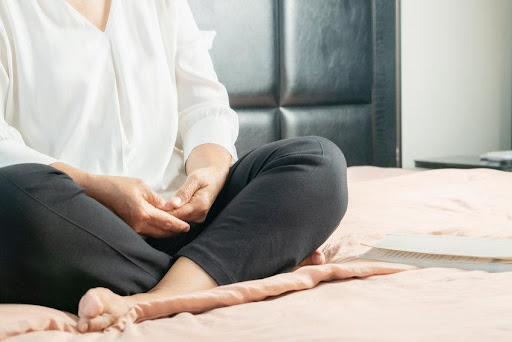 Practicing yoga for a healthy brain
Yoga is an excellent exercise for people of all ages due to its nature to be customized to what feels best for your body. It can be as challenging or nurturing as you want it to be. Yoga can be a great low-impact exercise to maintain a good range of motion and stronger bodies in aging adults. It can even be practiced while seated for those with limited mobility and who need a gentler experience.
Aside from the physical benefits that yoga has on your body, including building muscle mass, regulating breathing, and keeping you or your loved one active, it also has several benefits for the brain and mental health. This practice can even be done in the comfort of one's home with a bit of guidance.
What is yoga?
Yoga is over 2,000 years old and can be traced back to spiritual roots in ancient India. It's a long-appreciated style of exercise that involves putting the body in poses and positions with varying levels of difficulty and controlling the body's response through breathing techniques. The focus on aligning the breath with movement nourishes the body as oxygen flows in a controlled cycle.
For aging adults, yoga can be modified to your comfort level. Several of the poses are intended to stretch out muscles that are often tight, like the lower back, the hips, hamstrings, and shoulders. Stretching out these areas can relieve any tightness or muscle stiffness through regular practice. These stretches and poses will also offer an increased range of motion over time.
Why should I try it?
The benefits of yoga can be witnessed on the body, but they begin in the brain's anatomy. One study found evidence that yoga may help mitigate age-related and neurodegenerative declines as yoga directly affects areas of the brain that can experience significant age-related atrophy. For instance, consistently practicing this exercise over time has changed the amygdala or the part of the human brain that controls emotions. Aging adults often have trouble controlling emotions or mood swings, and a more robust amygdala can provide more control and be especially beneficial for this group.
Yoga also holds a meditative aspect that helps manage stress and reduce anxiety. According to the Mayo Clinic, it can also help relieve symptoms of chronic conditions, including pain, chronic obstructive pulmonary disease (COPD), asthma, arthritis, and insomnia. Even 10 minutes of yoga a day can positively impact the mind and body.
Where can I try it?
Yoga studios are becoming increasingly common, and there is one likely close by already. Studios will offer a wide range of classes for all skill levels: beginner or restorative yoga classes are great low-impact options that might be more suitable for aging adults. Having a teacher in person is also a handy resource – teachers can help you adjust in your poses to suit your needs better and make sure you are aligned correctly to avoid any injury or discomfort. They can make suggestions for other poses to do if you're not feeling up to a particular posture.
If there are no nearby studios or you prefer to stay home, hundreds of videos are available for free online for every skill type or experience. Online yoga videos let you be in charge of when you'd like to exercise and for how long, and they can be a more suitable experience for those who don't like to exercise in a group. There are hundreds of videos tailored directly to aging adults, including slower-paced practices and gentle chair yoga, all at the tip of your fingers.
Visiting Angels San Luis Obispo has caregivers available throughout the county that can help you achieve your yoga goals in various ways. A caregiver providing social services can help you learn your way around the computer to locate videos or even live online classes to begin your practice at home. Caregivers can also give gentle reminders for regular exercise routines and help with healthy meal preparations to meet your fitness goals. Reach out today to learn how an in-home caregiver can assist you, or a loved one at (805) 546-2080.