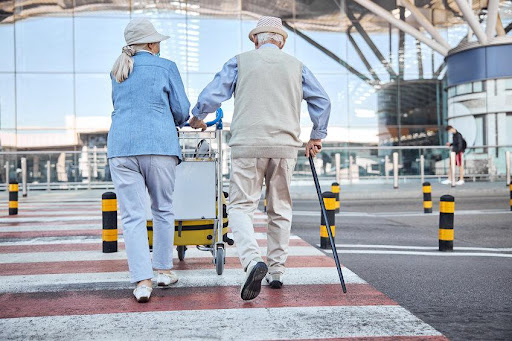 Travel Tips for Seniors
Traveling is something that everyone should get to experience, no matter their age. When planning a trip for seniors, there are some precautions that will be helpful to ensure their safety and enjoyment throughout the trip.
Buy Travel Insurance
One of the best ways to protect yourself during travel is with a travel medical insurance plan. This type of policy will cover any medical costs associated with an injury or illness on your trip. Travel medical insurance plans typically include telehealth services, COVID-19 coverage (if you've been exposed to the virus), and urgent care visits.
Choose an Aisle Seat
Though many senior citizens are capable of traveling by plane, an uncomfortable flight can leave them with a miserable experience. To help minimize the risk of this happening, seniors should always be aware of how they can make their flight more bearable. Knowing when to get up and move around and picking the right seat, such as an aisle seat, on the plane is crucial for making any trip more enjoyable.
Keep Medication on Hand
If you or a senior loved one are planning to travel this summer, it is important to be prepared for the unexpected. The most common ailments during a trip can be sudden and unpredictable. The best options for you or your loved one are to always carry medication on you with you – and make sure it is from your original pharmacy so that the dosage is correct.
Print Your Travel Documents
It is always a good idea to have printed copies of your travel documents when you're traveling. There are some situations where having physical copies will come in handy. For instance, if your flight is delayed or canceled, and you need to contact the airline, it can be challenging to get in touch with them via email or phone. Having printed versions of your ticket will make it easier to get what you need from the airline more quickly.
Arrive at the Airport Early
Traveling as a senior is different from traveling as a young adult. Traveling as a senior can take longer than usual due to accommodation setup and accessibility considerations. To avoid wasting precious vacation time, get yourself to the airport at least 3 hours before your flight and allow plenty of time for any accommodation setup that might be necessary.
Come Prepared With Snacks and Drinks
It is important to understand that airlines do not provide meals on most flights when traveling by plane. The food they offer is often limited to small snacks and water. If you are planning a long trip, it is wise to pack some snacks and drinks in your carry-on luggage. You may even want to consider bringing a lunch or dinner meal with you as well as snacks for later on in the day.
Traveling shouldn't stop once you're an older adult. The world is full of places to see and adventures to be had, but there are some precautions that you'll have to take as you get older. Our Visiting Angels San Luis Obispo caregivers can help your senior loved one get ready for an upcoming trip. Our home care services can include assistance with packing, errands, meal and snack preparation, assistance with travel documents and more. Reach out to us today to get started at 805-546-2080.