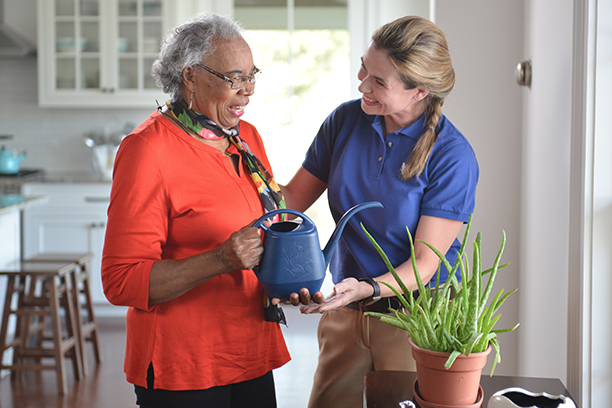 Home Care in Dudley
Home care allows Dudley area seniors to live happier, healthier, and safer lives. At Visiting Angels®Southbridge, we provide the support needed to keep your loved one out of an assisted living facility and in their own home in Dudley, MA, where they belong.
About Visiting Angels Southbridge Home Care in Dudley
Caring for an elderly relative can be taxing on the whole family. Many families in this situation feel tremendous pressure to be available for their loved one … at all times.
Hiring one of our caregivers is a much better solution. Not only will your relative get the care they need, but you will get the chance to step away without feeling any guilt or stress.
At Visiting Angels Southbridge, we vet all of our potential caregivers with background and reference checks, so you can be sure that we only employ the most capable and trustworthy people, with the right attitude for the job.
We take our role as in-home companions and home care providers in Dudley very seriously, which is why we select caregivers with kind, loving hearts and the right personalities. We pride ourselves on delivering loving companionship along with all the helpful assistance, so your relative will get both physical and emotional assistance to get through the day.
With our service, your parent or relative will have positive and respectful support from a wonderful senior care professional.
We offer:
Flexible support for your loved one, adapted to their needs
Loving companionship from a trusted caregiver
Stress-relieving service to give family members a break
Helpful tips for increasing home safety
And more!
We offer an extensive list of home care services, all catered to your loved one's specific needs.
Our customized service can be scheduled on a full or part-time basis. Some of our home care options in Dudley include:
Toileting and bathing assistance
Mobility support
Reminders to take medication
Light housekeeping and meal prep
Accident prevention
And much more!
Providing Home Care Throughout the Dudley Area

We are proud to help families in Dudley, Southbridge, Fiskdale, Hampden, Holland, Monson, Oxford, Palmer, Sturbridge, Sutton, Wales, Webster, and the surrounding areas. With our flexible care, you can give your relative the help they need to remain at home for as long as possible. Plus, with reliable professionals handling their care needs, you can focus more on creating happy memories and enjoying the time you spend with them.
To begin our service, we provide each family with an initial care consultation. This allows us to learn about your specific needs and answer your questions. It also helps us choose the right caregiver for your relative. Once we have figured out the right care plan and assigned a care provider, you will have the chance to meet this person and decide if they are the right fit.
To learn more about our home care in Dudley, call Visiting Angels Southbridge today and ask about a care consultation.
Age in Place With These Home Safety Tips
At Visiting Angels Southbridge, we deliver helpful home care for Dudley area seniors. Our goal is to maintain a safer home life for your loved one, helping them to reduce injury risks and avoid the need for an assisted care facility. As a crucial part of this effort, we would like to suggest some home safety tip for a safer and simpler home life.
In Case of Emergency
Keep a list of emergency numbers near each phone, in large enough print that it can be easily read even if your loved one is in a hurry, injured, or frightened. You should include numbers for:
911
Poison Control: (800) 222-1222
A family member or friend to call in the event of an emergency
Their doctor or healthcare provider's office
Poison Prevention
Make sure that your senior has carbon monoxide detectors near each bedroom and test and change the batteries at least every six months.
Keep all medications in their original bottles so they aren't mixed up.
Medications should always be taken in a well-lit room so that you can read the labels. (Hint: Ask your pharmacist to use large-print labels so they are easier to read.)
Slip & Fall Prevention
Falls can be disastrous for seniors. Limiting risks around the home is critical, and the bathroom is the first place to start. Many falls happen in the shower or tub, so the first thing to do is install a hand railing. If it's possible to upgrade to a walk-in shower unit, this will help greatly as well. We also encourage you to put non-slip floor mats in the bathroom and to install a handheld shower head.
To keep things more accessible in the kitchen, you should put frequently used items at hip to shoulder height in the cupboards. Even the most seemingly harmless of movements can lead to injury, so simplifying daily life in little ways like these can make a huge difference.
It is important to ensure that all carpets are fixed firmly to the floor. No-slip strips are available at any hardware store and can make all the difference. It is also recommended to remove all small throw rugs.
Stairs should always be kept clutter-free. Shoes, books, and other items should never be left sitting on the steps. A second handrail can also help prevent falls; however, it is important that both handrails are installed securely.
Installing a bed rail can provide support when getting in and out of bed. It is also good for times when your loved one changes position from lying down to sitting or standing, as the change in position can make you dizzy.
Professional home care in Dudley is available when you want the absolute best for your elderly relative, keeping them safe and at home with our loving support is the best call.
When you combine our attentive care with some of these helpful home adjustments, you can create a safe and sustainable home environment where your loved one can comfortably age in place. Contact Visiting Angels Southbridge to schedule a free in-home consultation.
Compassionate Home Care Near You
Securing our help around the house is the best way to extend your relative's home life and keep them safe. We work hard to provide the right level of assistance for each person, allowing each senior to maintain independence, privacy, and dignity as they age in the comfort of their own home.
We offer home care services in:
Dudley
Southbridge
Fiskdale
Hampden
Holland
Monson
Oxford
Palmer
Sturbridge
Sutton
Wales
Webster
And throughout the nearby areas
For more info about our home care in the Dudley area, contact Visiting Angels Southbridge today and set up your care consultation.
Serving Communities in Sturbridge, MA; Dudley, MA; Oxford, MA; Southbridge, MA; Webster, MA and Surrounding Areas
Visiting Angels
SOUTHBRIDGE, MA
50 Elm St #F
Southbridge, MA 01550
Phone: 508-764-6700
508-764-6701
Fax: 508-764-6725