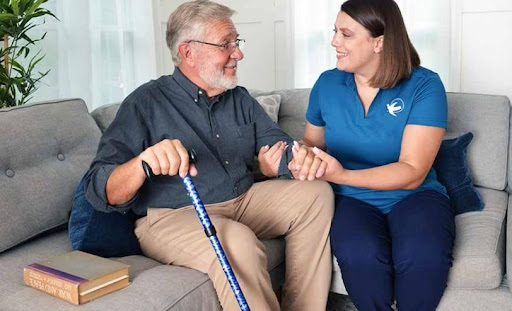 Home Care vs. Home Health - There is a Difference! Finding the Right Choice for Your Loved One
We know what an important decision it is. Finding just the right care for your loved one can seem overwhelming at first. Navigating through all the options can be daunting. Our team of professionals at Visiting Angels Bloomington is here to help you make the best, most informed decision and find the best care.
Our aging loved ones often want to stay in the home they know and love, where they are most comfortable. Ensuring they are safe and well-cared for is the top priority. With Home Care and Home Health Services, it is entirely possible for them to age in place. But which option is right for your loved one?
You may have heard both terms, sometimes interchangeably. However, they are not the same. There is an important difference between Home Care and Home Health, and it is important to understand that difference when choosing the best option for your loved one.
Home Care
With Home Care, trained caregivers come into the home to help with non-medical needs. Home Care includes a variety of services. Sometimes our loved ones need just a little help. Sometimes they need more. Tailoring Home Care to their specific needs is important.
At Visiting Angels of Bloomington, one of our most popular Home Care services is one-on-one companionship, so our loved ones are not isolated. Home Care can also include meal prep and light housekeeping, such as vacuuming, changing sheets, dusting and doing the laundry.
Hygiene needs, including bathing and dressing, also fall under the category of Home Care.
In-Home Caregivers can offer medication reminders, which are important when our loved ones forget about taking their medications. However, in-home caregivers cannot administer medication.
Home Care can also include Palliative Care, Dementia Care and Fall Prevention.
In addition, In-Home Caregivers can do things outside of the home for your loved one, such as grocery shopping, running errands and providing transportation.
Depending on your needs, Visiting Angels Bloomington helps you tailor an exact home care plan for your senior loved ones. We will create a customized plan and match you with a highly qualified caregiver that best meets your needs. Our plans help keep your loved ones safe while offering you peace of mind that they are in good hands.
Home Health
With Home Health, your loved one will receive medical assistance from a medical professional. Home Health professionals provide medical services at home to treat chronic health conditions or help patients recover from illness, injury, or surgery.
The need for Home Health often arises post-surgery or after a hospital stay. However, Home Health is for anyone that wants to stay in the comfort of their own homes while receiving professional medical care.
Many people transition into Home Health after a hospital stay or after being at a rehab center or skilled nursing facility. The services help keep patients safe and as independent as possible under the care of a medical professional.
Home Health professionals can help with wound care and dressing changes, administering medication and physical therapy. The skilled professionals can also help with speech therapy, occupational therapy and social work.
Home Health is often prescribed by a medical professional.
Making a Decision
As you evaluate what is best for your loved one, our professionals at Visiting Angels of Bloomington can help you sort out the differences in care options.
If you are searching for care for your loved one in South Central Indiana, our expert team can help you make the right choice. If you choose Home Care, our compassionate and professional caregivers can assist with your non-medical needs. Our caregivers serve clients in Brown, Bartholomew, Johnson, Monroe, Shelby and Rush Counties, including Bloomington, Columbus and Nashville. To learn more, call our offices at (812) 940-4105, or complete this form online.