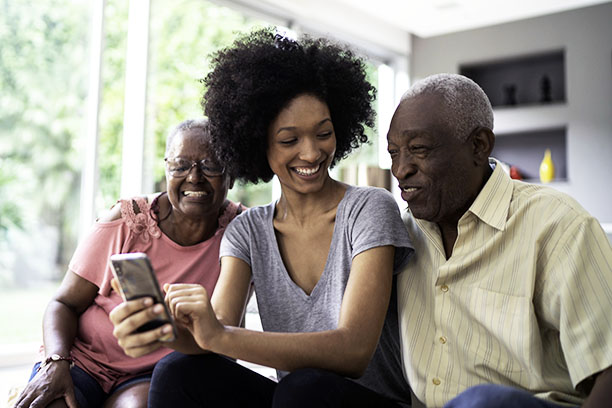 Boosting Social Wellness With Elderly Home Care Services In Bloomington, IN
Elderly home care services from Visiting Angels South Central Indiana can help seniors in Bloomington, Nashville, Columbus and surrounding areas stay in touch with loved ones through digital platforms
At Visiting Angels South Central Indiana, we understand that providing adequate care for a senior loved one requires much more than physical care and tending to one's basic needs. For this reason, our elderly home care services are based on a holistic approach that focuses on the well-being of the entire person.
The care provided by our Angel companions allows our senior clients to maintain a happy, independent lifestyle at home. To that end, our social care program encourages older adults to stay connected with family and friends by utilizing the Internet and platforms such as Facebook, Skype, FaceTime, and so on.
What Our Social Care Program Includes
The program allows seniors to socialize more often, pursue hobbies or other interests, and get in touch with like-minded people whom they wouldn't otherwise meet in real life due to health concerns or mobility issues. With the help of elderly home care services from Visiting Angels, your loved one can keep loneliness and isolation at bay and lead a happy, fulfilling life at home.
In recent years, more and more studies delved into the use of social media and the impact these platforms have on the senior population in particular. Some of these studies have come up with some interesting results, proving that the use of social media offers a number of health benefits in senior years. For example, according to a study conducted at the University of Arizona, seniors who regularly use Facebook show an increase in mental updating skills by 25 percent. This means the use of social media literally helps boost their general memory. Another study shows that surfing the Internet helps reduce senior depression by a staggering 20 percent*. Additionally, seniors who use social networking sites have had breathing rates, brain stimulation and pupil dilation that is associated with a positive emotional experience**. It is obvious that staying up to date with technology and social media can have a profound effect on your loved one's quality of life.
Our social care program includes:
Showing seniors how to use a cell phone

Teaching seniors how to independently use the Internet, send emails, and chat or make calls on Skype/FaceTime

Helping seniors set up their Facebook account and get in touch with family and friends

Educating seniors how to shop and find entertainment and useful information online
Call the Visiting Angels South Central Indiana office in Bloomington, IN today to learn more about our elderly home care services. We look forward to working with you!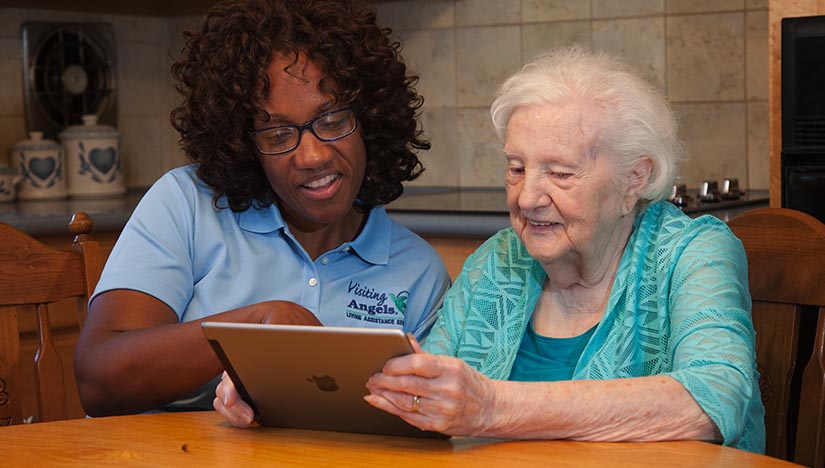 Because of this program, I was able to experience two of the greatest joys in life – becoming a grandmother and seeing my son become a new father. Skyping and Facebooking with my son and his family are now a normal part of my life. It helps me feel like I'm still an important part of their lives even though I'm miles and miles away.

* Washington, D.C. based Phoenix Center
** Journal Cyberpsychology, Behavior, and Social Networking
Serving Brown, Bartholomew, Johnson, Monroe, Shelby & Rush Counties including Bloomington, Columbus & Nashville
Visiting Angels
SOUTH CENTRAL INDIANA
1905 N Monroe St
Bloomington, IN 47404
Phone: 812-929-0428
Fax: 800-518-7866