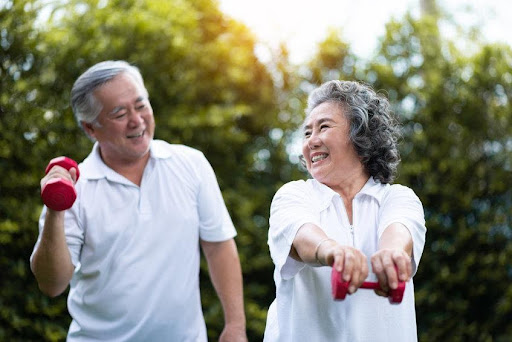 Five Low Impact Exercises To Keep Seniors Active
Exercise is an essential part of maintaining a healthy body with adequate energy. Not only does exercise keep us energized during the day, but it also helps to achieve more restful sleep at night. On top of dozens of other benefits, just two and a half hours of aerobic exercise per week can also reduce the risk of chronic illness.
Seniors often deal with limited mobility due to aging, and some exercises can be too hard on the body, causing more harm than good. Low-impact exercises are more accessible for those with joint or bone pain, osteoporosis, or osteoarthritis. The following exercises will lower blood pressure, improve strength, and reduce stress and are perfect for seniors of all skill levels.
Walking
Just like running, the act of walking activates all of the muscles in your body. However, it's easier on hip and knee joints and the back. Regular walking reduces the risk of high blood pressure and high cholesterol in seniors, and the boost of natural endorphins can alleviate body aches and even lift your mood. Adding just 30 minutes of walking to a daily routine provides these benefits and more.
Swimming
Surrounded by water for support to counteract the effects of gravity, swimming has almost no negative impact on the body. Those suffering from severe joint pain who are uncomfortable exercising on land can get active comfortably by swimming a few laps. Swimming builds endurance, muscle strength and improves cardiovascular health.
Water aerobics is another form of water-based activity great for seniors. For people with arthritis, activities in water can help improve movement in affected joints without worsening symptoms. Trying regular exercises in the water can help improve range of motion while the strain of gravity is temporarily alleviated.
Yoga
Not all yoga is hot and intense. Much of it is restorative and works to strengthen muscles while improving flexibility. Poses are combined with breathing techniques to keep the body calm and sustained. Plus, this practice's focus and meditative qualities are successful in relieving stress, promoting better sleep, and lessening the risk of depression. A beginner's class or gentle, restorative yoga class should be suitable for seniors. Ask your yoga teacher for suggestions on modifying poses to best suit your body.
For seniors with limited mobility, there is also chair yoga. This practice combines breathing techniques with gentle poses from the comfort of a seated position in a chair. These poses are low-impact and work to strengthen core muscles that improve stability when standing. Some gentle seated poses are seated mountain pose, seated twists, and overhead stretches.
Resistance Band Workouts
A resistance band is a strong band of stretchy plastic that aids in exercising by making simple motions more challenging. These bands are relatively low-cost and easy to obtain, and they are a convenient piece of workout equipment to store in your home without taking up space. Plus, using a band lets you choose your desired difficulty level and add more heat to simple leg lifts and bicep curls.
Indoor Cycling
Cycling is an intense cardio exercise, second only to running in the use of full-body muscles and the number of calories burned. A stationary indoor bicycle is a great alternative to the many risks that accompany biking on the road for seniors. Cycling keeps the heart rate elevated for long periods of time, encouraging lower blood pressure, lower "bad" cholesterol, and improved lung function. Cycling is an excellent option for seniors to build at their own pace in either a cycling class or just on a personal indoor bike.
Several of these exercises can be achieved from the comfort of one's own home. Home caregivers can provide assistance to seniors to realize their exercise goals, whether it be assisting on a walk or just providing encouragement to get them going. Visiting Angels South Central Michigan provides these services in the Adrian, Jackson, Brooklyn and the Communities of Lenawee, Hillsdale and Jackson Counties throughout South Central Michigan. Our skilled caregivers will formulate a care plan around your unique needs and offer a range of services from personal care to dementia care. Reach out today to explore your options and improve your quality of life at (517) 583-4549.