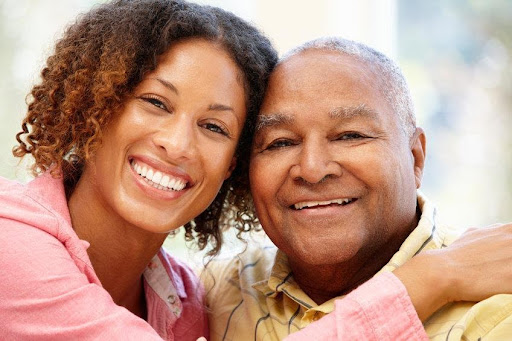 Happy National Family Caregivers Month from Visiting Angels
In 2020, 53 million Americans acted as caregivers for family members, a 9.5 million person increase in the last five years. An estimated 79% of these caregivers are caring for a family member over the age of 50. That's 1 in 6 Americans providing uncompensated care for a loved one out of the goodness of their hearts.
If you're one of these Americans, it's time to celebrate you! November is National Family Caregivers Month. Hopefully, you feel the rewards of helping others and they express their gratitude throughout the year, but it's important to set aside time to make those special feelings known.
No one understands the work and dedication you've put in for your loved ones better than the home health caregivers at Visiting Angels South Central Michigan. You have taken on a role that is so essential to an aging adult's life, and your contributions are raising your loved one's spirits, health and quality of life in a time where they may be most vulnerable.
Aside from the appreciation you should feel this month, it's also a great time to check in with yourself on both your mental and physical health. How are you feeling?
Caregiving is a demanding albeit rewarding experience. There are likely times that you've set aside your own wants, needs or commitments to make more time for your aging loved one. You may take comfort in the fact that you're doing your best and providing the best care and companionship that you can, but it is important to make sure you're not losing your own health or happiness in the process.
Caregiver stress is a commonly reported syndrome. Studies show that 16% of caregivers are emotionally strained, while 26% state that taking care of their loved ones is hard on them emotionally. 22% said they are exhausted when they go to bed at night.
You shouldn't feel guilty for having these feelings. After all, you're performing a job that some people are not equipped to do, and you're likely dedicating a large portion of your personal time to do it. If any of these symptoms are becoming more prevalent in your day-to-day life, you may be experiencing caregiver stress:
Increased anger or irritability
Feeling constantly overwhelmed or worried
Common or constant exhaustion
Changes in sleeping patterns, be it oversleeping or under-sleeping
Changes in weight
Losing interest in activities you used to enjoy
Feeling sad
Frequent head or body aches
Alcohol or drug abuse
This amount of stress for a prolonged period of time can lead to issues with your own health as you care for another's. There are many ways to combat these feelings, such as joining a support group, seeking support from friends or family when you are overwhelmed, and letting your doctor know of your health concerns. It's important to set realistic goals and remember that you are doing the best that you can with your situation, and you deserve compassion.
No matter your situation, it's important to take a break, no matter how short. Family and friends are a great option, but respite care can also be beneficial in these crucial times. Visiting Angels South Central Michigan offers respite care in Adrian, Onsted, Brooklyn, Jackson and the surrounding communities when you need an extra hand. This interim version of home care provides a caregiver for your loved one for any length of time when you are not available and can assist with hygiene, housekeeping, meal preparation, and companionship. It may be difficult to consider letting someone else help when you have shouldered this responsibility yourself, but it is important to keep yourself healthy and happy, too! Reach out today to learn how Visiting Angels Central Michigan can be a resource for you in the times you need it most at (517) 200-9168.
And from all of us at Visiting Angels, Happy National Family Caregivers Month! Your compassion, patience and thoughtfulness are a true treasure during this delicate phase of your loved one's life.