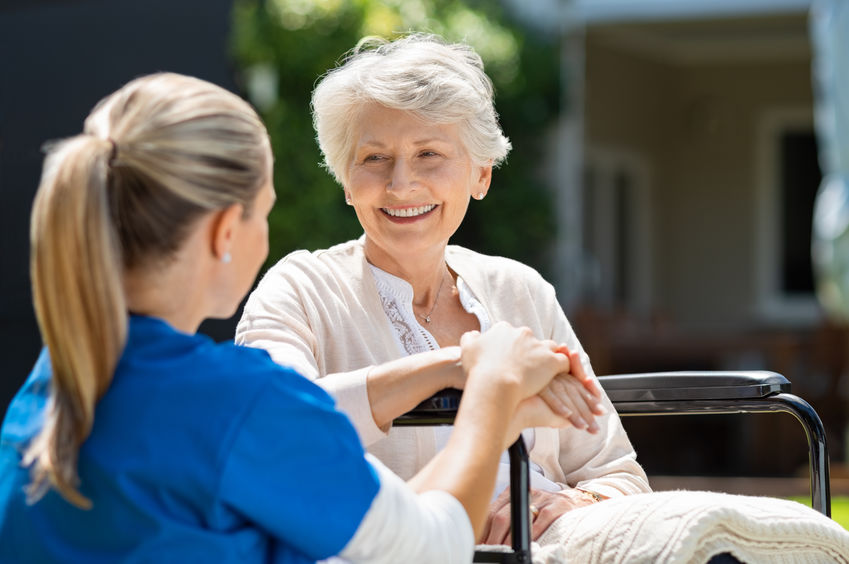 How Visiting Angels Helps Seniors Avoid Hospital Readmission
Hospital readmission is common in the elderly community. Roughly 15% of seniors are readmitted to a hospital within a month of discharge.
After being discharged, several strict guidelines need to be followed to ensure proper healing. This can be difficult for some due to physical limitations, mental ailments, and even financial restrictions. There are a few common scenarios that often lead to rehospitalization. It's important to become familiar with them to better understand why it is so important for your senior loved one to follow the doctor's orders.
Reasons Seniors are Readmitted to the Hospital
Pneumonia
Readmittance due to contraction of pneumonia is common, costly, and seemingly avoidable. Even though measures are taken to educate patients on the risk of pneumonia developing, it's not always easy to avoid.
Patients who were initially hospitalized for pneumonia are at a higher risk of developing it within 30-days of a hospital stay. It's estimated that readmissions occur in 17 to 25% of patients initially hospitalized for pneumonia. Seniors hospitalized for other reasons can also develop pneumonia during recovery due to fluid entering the lungs and inactivity.
As your senior loved ones recover, it's important to monitor them closely. That way, if pneumonia does develop, it's caught early on.
Reoccurrence of a Previous Infection
Without the care of medical experts, it's common for previous infections to reoccur. Often times the infection can come back more aggressively than it was initially.
Elderly patients are also at a high risk for developing a healthcare-associated infection (HAI) while receiving care for an unrelated issue. The risk of developing a healthcare-associated infection increases with age. Approximately 1 in 10 senior citizens contract an infection during a hospital stay.
Common symptoms of an HAI are:
Fever
Diarrhea
Discharge from a wound
Shortness of breath
Vomiting
Taking a proactive approach is the best way to prevent infections from occurring.
Failure to Follow Discharge Orders
Following a hospital stay, your loved ones may expect their lives to return to normal; however, that is not always the case. There are strict guidelines that should be followed after a discharge, and failure to do so can be detrimental to their health.
If you live away from your aging loved one, it can be challenging to give them the around-the-clock care they require after a hospital stay. Visiting Angels South Central Michigan caregivers can be there for your loved one and offer support through our Ready-Set-Go Home transitional care program.
Having adequate care procedures in place will allow for a smooth recovery and reduce the risk of hospital readmittance.
Poor Coordination After Discharge
Coordination of care is a significant factor in preventing readmittance. Unfortunately, many patients fail to follow up with their primary care doctors following discharge. This vital step is often skipped because of miscommunication.
Sometimes the discharge team is not as proactive as it should be, and they fail to schedule follow-up appointments with the patient. Other times, appointments are scheduled, but the patient doesn't show. There are a few steps that can be taken to ensure proper coordination after discharge.
Secure a plan for transportation before each appointment. This will make attending appointments easier.
Make sure follow-up appointments are scheduled before being discharged. After leaving the hospital, things can get hectic, so planning ahead is vital.
Provide frequent reminders as each appointment approaches to decrease no-shows.
Each of these steps will help lead to your loved one's recovery.
Falling Incidents
Fall-related injuries are already common among seniors. When their bodies are in a weakened state, this risk increases even more.
Seemingly routine daily tasks that were done before hospitalization can become dangerous after being discharged. Especially since mobility will likely be limited. A Visiting Angels South Central Michigan in-home caregiver can aid with daily tasks and prevent your loved one from straining themselves.
With proper care, the likelihood of a fall-related injury occurring will decrease significantly.
How Visiting Angels Can Help
Visiting Angels South Central Michigan can guide your loved one through their recovery process to ensure it is a smooth one. Whether it's helping with daily tasks or offering transportation to and from follow-up appointments, we will be there to support them each step of the way. To learn more about how Visiting Angels South Central Michigan can support your senior loved one after a hospital stay, we encourage you to give us a call at 517-920-4254 or visit our website.