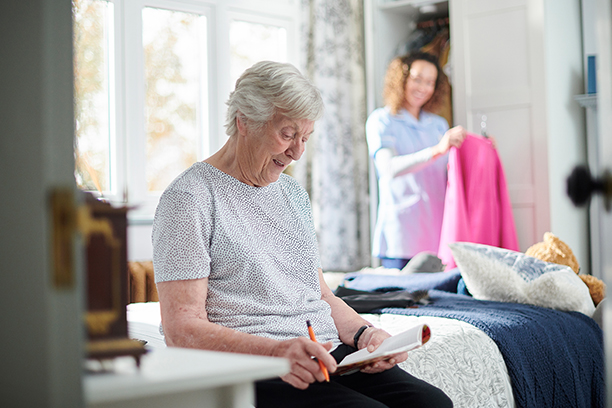 The Benefits of Long-Term Care Insurance for Seniors in Adrian, MI and Surrounding Areas
Visiting Angels accepts long-term care insurance in order to pay for in-home senior care services in Adrian, Brooklyn, Jackson and surrounding areas in South Central Michigan
Many seniors wish to remain in their homes as they age. It is natural to want to stay in a familiar, comfortable setting, especially as mobility and overall health seem to constantly be changing. Visiting Angels South Central Michigan helps seniors in Adrian, Jackson, Brooklyn and surrounding areas stay in their homes by accepting long-term care insurance as a method of paying for private home care services.
If you are searching for care for a parent or other aging relative, find out if they have this insurance plan, as this may reduce the out-of-pocket costs for your family significantly. If you're planning ahead for in-home senior care for yourself, a spouse or family member, consider the benefits of using this form of financial assistance to help you stay in your home longer.
What is Long-Term Care Insurance?
Many people often associate this type of insurance and what it covers with nursing homes or hospice facilities. In fact, just the opposite is true. Long-term care insurance allows people with acute illnesses, long-term health conditions, permanent disability or terminal illness to receive elder care at home.
Typically, adults in their 50s and 60s begin shopping for long-term care insurance in preparation of their senior years. If you have an elderly loved one, it is a good idea to check if they have this type of insurance plan.
Determining Home Care Benefits
Adults who have difficulty performing Activities of Daily Living (ADLs) are typically eligible to use these insurance benefits. This means they require daily assistance with bathing, dressing, toileting and feeding. Depending on your loved one's policy, there may be a waiting period before you can access the fund. Make sure to ask the insurance provider if you can start collecting benefits the day you begin receiving elder care services or if there is a waiting period.
Speaking with an experienced, professional insurance broker can help your family determine the specifics of your loved one's policy. When you're ready to start home care services, contact Visiting Angels South Central Michigan.
Making Senior Care Affordable for Families in Adrian and Throughout South Central Michigan
Visiting Angels in Adrian is a leading provider of non-medical senior care in South Central Michigan. We are a private pay home care agency that accepts long-term care insurance, Veterans benefits and auto insurance claims. Chances are, if your senior loved one has this form of insurance, we can accept their benefits and provide elder care services at a lesser out-of-pocket rate for your family.
Please contact our office in Adrian, MI to learn more about getting started with elder care services. We're happy to answer any questions you may have!
Serving Adrian, Jackson, Brooklyn and the Communities of Lenawee, Hillsdale and Jackson Counties throughout South Central Michigan
Visiting Angels
SOUTH CENTRAL MICHIGAN
3300 N Adrian Hwy
Adrian, MI 49221
Phone: 517-920-4254
Fax: 888-306-0434