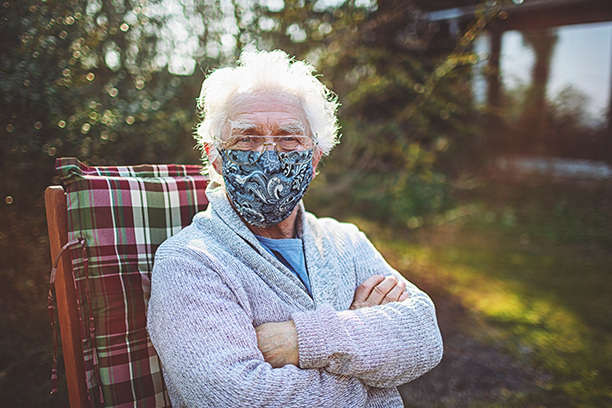 Do You Have Questions About Our Alzheimer's Care in Centerville, South Dayton, OH, or the Surrounding Area?
Alzheimer's Care in Centerville, South Dayton, Xenia, and Nearby Cities
If you or a family member has been diagnosed with Alzheimer's, you most likely have questions about its effects. We compiled a list of commonly asked questions to give you answers from our Alzheimer's care in Centerville, South Dayton, Xenia, Springsboro, and the surrounding area – specialists with extensive training and experience in the field of dementia and Alzheimer's care.

What Is Alzheimer's Disease?
Characterized by behavioral changes, memory loss, and cognitive decline, Alzheimer's disease is a progressive, degenerative, and fatal brain disorder. Symptoms worsen, typically over the span of several years. In America, there are about 5.5 million people living with the condition, most of whom are 65 years of age and over.
As Alzheimer's is a terminal illness, the average life span of someone diagnosed with Alzheimer's is approximately 4-8 years, making it the 6th leading cause of death in America. However, there have been several cases in the U.S. of individuals who have lived 15-20 years with this condition.
What Is the Difference Between Alzheimer's and Dementia?
Everyone who has Alzheimer's has dementia, but not everyone who has dementia has Alzheimer's. Dementia is an umbrella term, one that encompasses all forms of brain disorders characterized by memory loss. Alzheimer's is, however, the most common form of dementia – about 60% to 80% of all cases.
What Are the Risk Factors for Alzheimer's?
Scientists have pinpointed several risk factors associated with Alzheimer's, though researchers are still trying to narrow down its actual cause.
The three biggest risk factors for Alzheimer's are:
Advanced Age – most people with Alzheimer's are over the age of 65.
Genetics – families with a history of being diagnosed with Alzheimer's are at higher risk of developing symptoms, as well.
Heart Health – those with poor cardiovascular health can increase one's risk of developing Alzheimer's disease.
Other risk factors, like exposure to air pollution, a history of head trauma, sleeping problems, heavy smoking, heavy drinking, and high-stress levels also play a role.
What are the Symptoms of Alzheimer's?
Alzheimer's disease does have a wide range of symptoms, mostly expressed through speech, thought patterns, and behaviors. The most prominent symptoms are:
Acts more irrationally, irritably, or depressed than usual

Trouble solving simple problems

Forgets words or begins mixing up words

Loses items or becomes lost more frequently

Short-term and long-term memory loss

Becomes confused about current time or place

Confuses the names and identities of people

Uncommon struggles with day-to-day activities
How Does Alzheimer's Disease Progress?
Nowadays, researchers believe that Alzheimer's begins many years before people notice symptoms. Usually, these symptoms begin to appear in their senior years, however, there have been some instances of the disease appearing in individuals who are in their 40's or 50's. Over several years, Alzheimer's gradually progresses, with symptoms becoming worse and worse.
Symptoms are normally mild at first, with minimal impact on an individual's life and well-being. But eventually, as the disease progresses, symptoms go from mild to moderate to severe. Short and long-term memory loss is common in the final stages of Alzheimer's. People also lose the ability to take care of their own personal needs, such as going to the bathroom or eating, as well as the ability to speak and understand speech.
Does Alzheimer's Disease Have a Cure?
Currently, there is no cure for Alzheimer's disease – it is irreversible – but scientists continue to search for a cure. In the meantime, there are many Alzheimer's care services, therapies, and treatments that can delay the onset and progress of the disease.
The focus, according to doctors, should be on a healthy lifestyle, with great emphasis on cardiovascular health. Other interventions like decreased stress, such as improved sleep habits, and increased omega-3 intake have also proven to reduce the risk of Alzheimer's.
What Are My Loved One's Options for Alzheimer's?
As the condition worsens, people living with Alzheimer's often require a lot of care to ensure their well-being and safety. In the earlier stages of the condition, family members are usually the ones who care for loved ones. In the final stages, however, Alzheimer's care is normally a requirement to address the high level of care needed.
Nursing facilities are an option, but they tend to be the last resort because of the trauma involved when moving a loved one to a facility they're unfamiliar with.
Another option is to hire Alzheimer's care at home, such as the programs provided by Visiting Angels. Our services are specialized for the care of clients with dementia, a personalized type of home care designed to help individuals with Alzheimer's age in place.
Schedule a Free, In-Home Assessment Today
Visiting Angels' Alzheimer's care services are distinct from traditional home care because seniors who have dementia require higher levels of specialized support. When you enlist in our care, our care coordinator sits down with clients and family members to create a care plan for their loved one, addressing their needs and preferences.
Care is given in a calming, comforting environment – the home of the care recipient – that is provided by professional Alzheimer's care providers who are qualified, compassionate, and understanding.
Want to learn more about our distinct Alzheimer's care? Then contact Visiting Angels at 937-813-6568 today – we can help. Contact us to schedule a free, no-obligation in home assessment for your loved one.
Serving Centerville, Xenia, Springboro, Miamisburg and the surrounding Dayton Communities
Visiting Angels SOUTH DAYTON, OH
4 W Franklin St
Centerville, OH 45459
Phone: (937) 813-6568