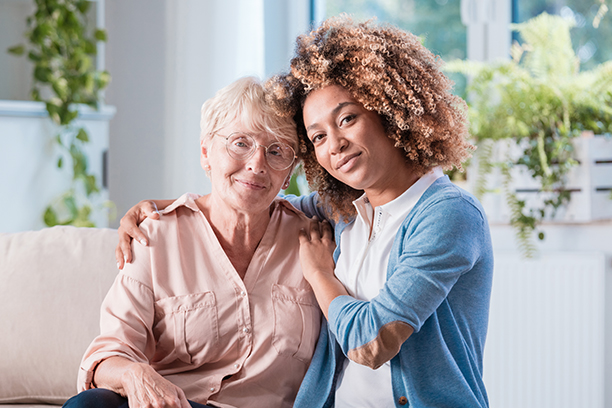 Home Care for Seniors with Cognitive Decline in Centerville, South Dayton, OH, and the Surrounding Area
Visiting Angels Offers a Wide Range of Home Care Services to Help Seniors with Alzheimer's, Dementia, and Other Cognitive Disease in Centerville, South Dayton, Xenia, and Nearby Cities
For many seniors, a diagnosis of Alzheimer's, dementia, or another cognitive disease can be sad and shocking news. Your loved one might worry that they can no longer live in their own home, or that they will eventually have to give up their connections to their friends, neighborhood, and community. At Visiting Angels of South Dayton, we know there is nothing more important than family. Our memory home care services are designed to empower your loved one to live independently and safely, while giving your family the peace of mind that they are always in good hands.
How We Can Help
Our caregivers offer in home assistance to clients with a wide range of needs. If your aging loved one has been diagnosed with Alzheimer's, dementia, or other degenerative cognitive diseases, our expert caregivers can provide the help your loved one needs to enjoy their best quality of life every day. We can also assist seniors who experience changes in mobility, chronic illnesses, and more.
Creating a Routine
For clients with cognitive diseases, a key part of home care will be collaborating to create a daily schedule and sticking to it. Your loved one will be invited to name their preferences, habits, hobbies, and goals, and our caregivers will help them incorporate regular rest times, meal and hydration times, activity times, and their prescription medication regimen. The routine we help your loved one establish increases feelings of security while also establishing healthy habits.
We can help with everyday tasks, like laundry, linens changing, meal preparation, getting the mail, and everyday activities that make us all feel happy and healthy, like participating in a hobby or sharing a conversation over a cup of coffee. It can also include more intensive assistance, like help with mobility, transportation to medical appointments or day centers, and personal care including bathing, grooming, and toileting.
Contact Us to Learn More
If your loved one has been diagnosed with Alzheimer's, dementia, or another cognitive disease, they do not have to immediately move into a live-in facility. Help keep them comfortable at home for longer with home care services from Visiting Angels of South Dayton. Call today to learn more about how our caregivers can help your family.
Serving Centerville, Xenia, Springboro, Miamisburg and the surrounding Dayton Communities
Visiting Angels SOUTH DAYTON, OH
4 W Franklin St
Centerville, OH 45459
Phone: (937) 813-6568