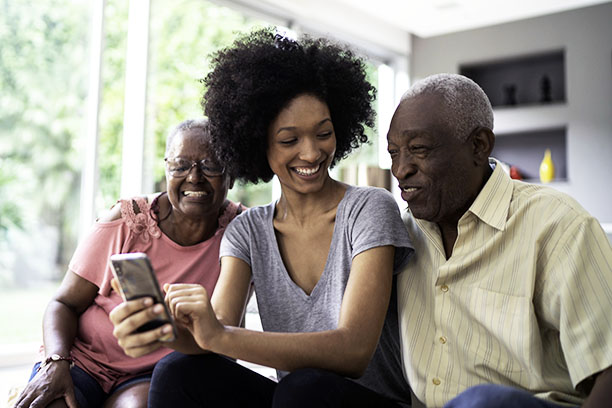 Technological Home Care Assistance in Centerville, OH and Nearby Areas
Each and every one of our senior clients is unique in their own way, therefore requiring an equally unique home care assistance plan. Visiting Angels takes on a more holistic method of in-home elder care, ensuring specialized care for your loved one both inside and outside of the home.
Our Social Care Program Provides Home Care Assistance to Seniors in Centerville, Dayton, Xenia, and Nearby Cities
Nowadays, everything seems to be linked to modern technology, and in order to be able to stay in touch with friends and family members, seniors need to learn how to use modern technology. Thanks to our home care assistance's Social Care program, friends, families, and loved ones can stay connected and communicate more frequently by using networking platforms like Facebook, Skype, and FaceTime. In doing so, older adults remain active and engaged, and closely connected to those they love the most.
Here are a few interesting findings that recent studies show:
Seniors can reduce depression by as much as 20% by simply surfing the internet.
According to a University of Arizona study, there was a 25% improvement in mental "updating" skills found in seniors who use Facebook – numbers that signify an improvement in working memory.

In another study that measured its findings according to breathing rates, pupil dilatation, and brain stimulation, older adults who visit social networking sites like Facebook had a positive emotional experience.
How Our Social Care Program Can Help
Seniors often struggle with maintaining relationships due to limited mobility or vision, fear of falling, inability to drive, and many other reasons. Our caregivers can help them get out of the house or even connect with their friends and family through technology.
Some of the services included in our Social Care Program include:
Use a cell phone
Text and send e-mails
Use network messaging platforms such as Skype or FaceTime
Create a Facebook account and page
Interact with family and friends online through Facebook

Log in, shop online, or research information on a search engine
Learn More About Our Social Care Program Today
Are you or a loved one in need of care at home? Call Visiting Angels of South Dayton at (937) 886-6880 today to learn about how we can help you have a richer, happier life with in-home caregiving. We will be happy to schedule a free, in-home assessment with one of our care coordinators to help you get started with our home care assistance!
Click one of the links below to get in touch with us today!


Serving Centerville, Xenia, Springboro, Miamisburg and the surrounding Dayton Communities
Visiting Angels
SOUTH DAYTON, OH
4 W Franklin St
Centerville, OH 45459
Phone: 937-886-6880
Fax: 937-716-2340