Stay Safe in the Sun: Five Sun Safety Musts for Seniors
Over the last 30 years, heat has become the leading cause of weather-related deaths, according to the United States Environmental Protection Agency. The EPA also states that since 1999, seniors have been several times more likely to die from heat-related cardiovascular disease than the general population. Heat is deceptive, especially for seniors who prefer warmer temperatures. Due to age, they experience decrease in circulation and a thinning of the fat layer beneath the skin's surface that helps conserve body heat. As a result, they feel colder and are more likely to turn off the air conditioning or sit for longer periods of time in the sun's heat.
There are other factors that put seniors at risk for heat-related illnesses. Most seniors suffer from at least one or more chronic health conditions that change the way their bodies react to heat. Seniors are also more likely to take prescription medications that can affect their ability to control temperature or produce sweat. Fortunately, with a few precautions in place, seniors can enjoy time outdoors while avoiding heat-related illnesses. Here are five sun safety musts for seniors that will ensure they stay safe even on the hottest days.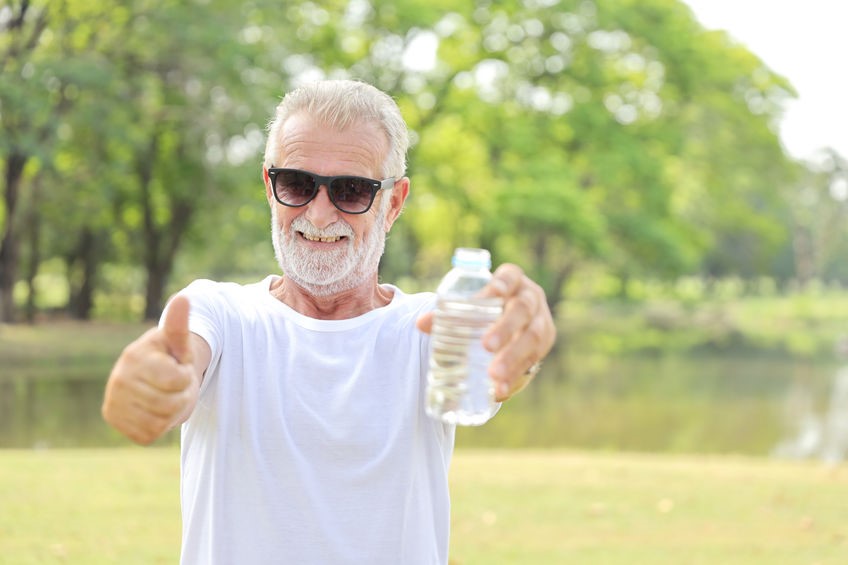 Stay Hydrated
It is of utmost importance that seniors stay hydrated during the hot summer months. Seniors are already at risk for dehydration. Due to age and a diminished thirst mechanism, seniors don't easily recognize when they are thirsty. Factor in the heat and seniors become even more vulnerable to dehydration. Aim to drink between six and eight glasses of water daily. Monitor fluid intake by recording each glass you drink. Choose foods that are high in liquid content, such as a juicy watermelon, celery, cucumbers, or oranges. Carry a water bottle with you, especially when heading outdoors, and sip on it throughout the day.
Apply Sunscreen Often
When heading outdoors, even for short bursts of time, stay safe in the sun by applying sunscreen. During the summer months, the UV rays are stronger. It can take less than ten minutes to get a sunburn on days when the UV index is extreme. Even seniors who've sunbathed throughout their youth are susceptible to sunburn and skin cancer. Protect your fragile skin by taking the time to lather on sunscreen before you head outdoors. Look for a sunscreen that's water-resistant, broad-spectrum, and is an SPF 30 or higher. Apply to all exposed skin before heading outside. Reapply every hour.
Shade Yourself
In addition to applying sunscreen, protect your skin by wearing UV protective clothing, sunglasses, and a brimmed sunhat. UV protective clothing is becoming easier to find and you don't need an entire wardrobe of sun-specific clothing. One or two pieces can carry you through the summer. Consider purchasing a long-sleeved UV jacket or shirt that you can layer on top of your summer clothing. UV clothing is often light-weight and breathes well in the heat. Sunglasses are also important for seniors as sun rays can expedite vision impairment in seniors. Finally, don a wide-brimmed sunhat and you'll always have shade with you, even when shade isn't readily available.
Avoid Peak Hours
Another sun safety must for seniors is to avoid the outdoors during peak hours of the day, typically between 10 am and 4 pm. Aim to complete outdoor chores or enjoy the stillness of the morning, before the sun gets too intense. Wind down outdoors after dinner and watch the sunset. With more daylight hours during the summer months, there's more time to spend outdoors that aren't during the peak hours of the day.
Know When to Stay Indoors
Finally, the last sun safety must for seniors is to know when stay indoors altogether. There are some summer days when it's just not safe to venture outdoors, even for brief moments. Utilize the UV Index to know when it's best to stay inside and when it's safe to head outdoors. The National Weather Service calculates the UV index daily and most local meteorologists share this information during their daily forecasts. When UV index values reach seven or higher, it's wise to practice caution and remain inside. Ensure that you're staying cool in an air-conditioned room or home and don't rely solely on a fan to keep cool.
If you're looking for additional resources to stay safe in the sun this summer, look no further than Visiting Angels South Elgin. We provide friendly companionship along with compassionate senior home care services that are essential to keep seniors safe and independent in the comfort of their own homes. In addition, we offer respite care for family caregivers, giving them peace of mind so they can enjoy their vacation or stay-cation. Have a great and safe summer with us. To learn more, please contact us today by calling 847-429-0100.
Visiting Angels of South Elgin, IL
847-429-0100
https://www.visitingangels.com/southelgin/home