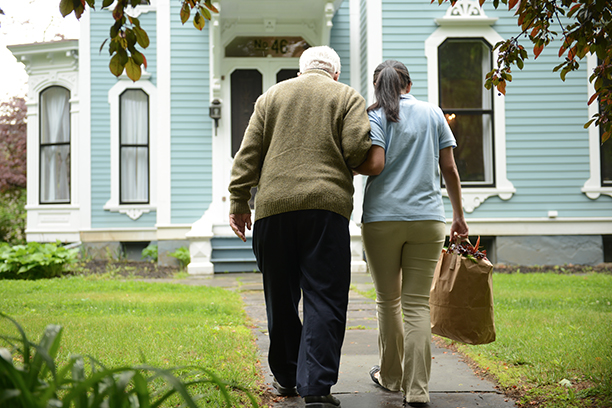 Long Distance Elder Care in Roswell
How Elder Care in Roswell Can Help Your Family Find Peace of Mind
Taking the steps to help a loved one get started with elder care is rarely easy, and it can be even more challenging if you live in another city or state. At Visiting Angels® Southern New Mexico, we're committed to supporting long distance families as they set up care for their loved ones in the Roswell area. We understand the difficulties of coordinating care from afar and will guide you through our simple, straightforward process to ensure your loved one has the compassionate support he or she needs.
About Long Distance Elder Care in Roswell
Nowadays, it's increasingly common for immediate family members to live in different cities and states. There are a number of factors that contribute to this situation, from young adults' need to move to new locations for professional and educational opportunities, to retirees' desire to spend their golden years in their preferred climate.
The good news is that it's relatively easy for long distance families to stay in touch. However, this level of contact simply isn't enough when a senior is going through age-related challenges. If you know your loved one in Roswell is struggling with day-to-day activities, it may be time to get them started with elder care.
Here's how Visiting Angels Southern New Mexico can help you manage this new transition in your loved one's life:
Consulting with you by phone or email about our services, your loved one's needs, and your family's preferences
Coordinating an in-person visit at your loved one's home to learn more about their personality, daily routines, and lifestyle
Using your input to design a customized care plan that makes it possible for your loved one to maintain an independent lifestyle
Selecting a professional caregiver to provide your loved one with physical, emotional, and social support
Providing your family with regular updates about your loved one's well-being and immediate notifications regarding sudden changes in their condition
Conducting frequent check-in phone calls and in-person visits to ensure your loved one's security and the quality of their care
Being easy to reach on an after-hours phone line if you ever need to get in touch with us about your loved one's situation
If you're ready to learn more about getting started with long distance elder care for a loved one in the Roswell area, don't hesitate to get in touch with Visiting Angels Southern New Mexico today.
Serving Roswell and the Surrounding Areas
Visiting Angels
SOUTHERN NM
711 W Alameda St Suite B
Roswell, NM 88203
Phone: 575-622-6539
Fax: 575-622-6193