Home Care Services in San Jose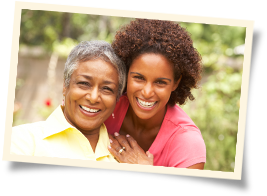 If you are considering home care services for your loved one in the San Jose area and weighing the advantages over placement in a nursing home, Visiting Angels® Jacksonville would like to help.
Determining which kind of services work best for your situation can be a stressful and emotional time. We have helped guide countless families through this very process. First, it's helpful to consider the benefits of home care vs. nursing home care in general:
Affordability. Home care offers real flexibility that results in significant savings and eliminates wasteful spending on services you don't need.
Comfort of Familiar Surroundings. The main benefit of remaining in familiar surroundings as we age is a sense of security and attachment to the past.
Customized Care Options. We customize our home care to accommodate the needs of your loved one's individual needs, during the times they need and want them.
Personalized Care. Our personalized, one-on-one care from a friendly and compassionate caregiver provides a level of attention and comfort that improves mood and reduces stress.
Safety & Health Benefits. At Visiting Angels Jacksonville, we are available to you and your loved one 24 hours a day, seven days a week. Our entire team will be familiar with your loved one's needs and preferences, so should they call, they won't have to give their entire background story. Aging adults with home care consistently demonstrate better overall health and well-being.
Promotes Independence. Our home care services in San Jose promote a sense of independence that each of us cling to as we age. We recognize and encourage that independence. We treat all our seniors with the same respect we would want our own parents to have.
We offer a free, no-cost and no obligation consultation for you and your loved one, at your convenience. We'll thoroughly assess the details of your situation and provide a customized plan based on your needs and budget. While we're there, we'll also provide you with a complimentary fall-risk assessment and valuable information about how to prevent falls.
Home Care Services Available in San Jose
Again, our services are fully customized to meet the individual needs of your loved one. We can help with a range of tasks such as:
Walking
Eating
Meal Prep
Bathing, grooming, and dressing
Housework
Errands
Grocery shopping
Conversation & empathetic listening
And much more
At Visiting Angels Jacksonville, we are incredibly honored to provide our home care services to seniors in the following nearby locations:
San Jose
Jacksonville
San Marco
Southside
Mandarin
St. Johns
Julington Creek
Green Cove Springs
And the surrounding area
Schedule Your Free Consultation
If you'd like to learn more about our home care services in San Jose or would like to schedule your free, in-home consultation, please call Visiting Angels Jacksonville today at (904) 394-3203!