Dental Hygiene Tips for Seniors That Might Save Your Natural Teeth
Although dental hygiene is important at every stage of life, it is of utmost importance in later adulthood. Older adults are more likely to experience problems with their dental health due to age. Loss of teeth, tooth decay, periodontal disease, discoloration, and dry mouth are just some of the oral health concerns older adults may face. If left untreated, these conditions can result in extensive tooth decay and gum disease, meaning dentures may enter the picture.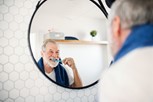 In order to prevent the need for dentures or dental implants, proper dental hygiene is essential. It's not true that all older adults will eventually need dentures or dental implants. According to the National Institute of Dental and Craniofacial Research, the number of older adults who experience partial or total tooth loss is decreasing. With proper dental hygiene, older adults have less than a 30% chance of needing dentures or dental implants as they age. Here are the top dental hygiene tips for seniors that might help them save their natural teeth.
Brush Twice a Day
The American Dental Association recommends that everyone brush their teeth twice a day with a fluoride toothpaste. It's important to brush before you go to bed, otherwise you give food and plaque more time to attack tooth enamel. If you eat a lot of sugar, it's a good idea to brush even more frequently to wash away the bacteria that produces acid. When you brush your teeth, don't rush the process. Spend two minutes gently moving the brush around, trying to reach all quadrants. Use gentle pressure, as too much pressure can damage your gums.
Floss Daily
Another recommendation of the American Dental Association is to floss daily. Flossing helps remove food and plaque found between teeth, a place that is almost impossible to reach with a toothbrush alone. Some older adults find traditional string floss challenging to maneuver in their mouth due to limited fine motor skills. If this is the case for you, please talk with your dentist about which flossing products are best for you.
Stay Hydrated
One of the bigger concerns older adults need to be aware of is dry mouth. Dry mouth is often a side effect of certain medications. It can also occur due to older age. Not only can dry mouth be uncomfortable, but it can also be another cause of tooth decay. The salvia found in our mouths helps neutralize acids produced by bacteria. Older adults who suffer from dry mouth need to stay hydrated. Sip water throughout the day to keep the mouth moistened. Drink a cup of water before you drink coffee or tea, and before each meal.
Change Your Toothbrush
The American Dental Association recommends a new toothbrush every three to four months, or sooner if the bristles are frayed or matted. Choose one with soft bristles to protect your enamel. Manuel or electric are both good choices for older adults, so talk with your dentist and seek their recommendation if you want to try something new.
Visit the Dentist Regularly
Unfortunately, many older adults neglect visiting the dentist because routine dental care is not covered by Medicare. Other barriers to scheduling routine visits include memory impairment, limited mobility, and unavailability of transportation. Yet, routine dental appointments can help prevent dental problems. Although older adults may need to pay out-of-pocket for a routine appointment, in the end, these routine appointments can end up costing less than significant dental problems. If it's been more than a year since your last dental appointment, schedule one today. Then, talk with your dentist about how frequently you should be seen. Be frank about the costs if it is a concern and ask what they can do to help minimize your bill.
If your dental hygiene has been lacking, Visiting Angels Southlake is here for you. Our compassionate caregivers can provide tips and reminders to help you brush up on your dental hygiene. We provide seniors with dressing assistance and personal hygiene care, in addition to meal preparation, light housekeeping, and other self-care tasks. You determine what you need help with, and we'll create a customized care plan that meets your needs. Please contact us today by calling 817-684-1996 to learn more.