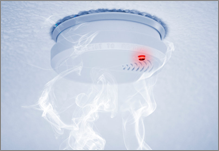 Fire Safety Tips for Older Adults
Older adults represent one of the highest fire risk groups in the United States. Their risk is higher than other younger age groups primarily due to reduced sensory abilities. Many older adults suffer from a diminished sense of smell, touch, vision, and hearing. Other impairments include limited mobility, memory impairment, and slower reaction times. The combination of any of these reduced abilities places older adults at a higher risk for causing fires, as well as fire injury or fire fatality.

October is National Fire Prevention Safety Month. Here are six recommended fire safety tips for older adults to help guide you on preventing fires and reducing the likelihood of injury should a fire occur in your home.

Cook with Caution

According to the U.S. Fire Administration, the number one cause of home fires is unattended cooking. Avoid a house fire by always cooking with caution. Never leave the kitchen when you're preparing food on the stove. Be mindful when you're frying food. Keep a lid nearby to cover the pan should your pan or pot catch fire. Roll up your sleeves when you cook so that they don't catch fire from the stove. Keep your oven clean and clear clutter around the stovetop. Unplug kitchen appliances when you're finished using them. If your coffee maker has an "off" timer setting, program it to turn off so that you don't forget to do so before leaving home.

Test Your Smoke Detectors

Smoke detectors are a crucial component of fire prevention. However, they can only help prevent injury or death caused by fire if they are working. Test your smoke detectors once a month by pressing the test button. Replace batteries immediately if you hear a smoke detector chirping. Resist the urge to unwire or remove batteries in your smoke detector because you can't reach it to change the batteries. Instead, call someone to help you. Many fire departments are willing to assist citizens with this task, especially if they are elderly. You should have a smoke detector in every room, hallway, and on each level of your home. Consider purchasing a connected smoke alarm system that signals all alarms when one goes off. If you cannot hear your smoke detector or have other impairments, get a smoke alarm that's connected to a monitoring center.

Strategically Store Fire Extinguishers

Small, manageable house fires can turn into a dangerous fire in as little as 30 seconds. It's important that you store fire extinguishers in strategic locations to stop the spread of a house fire as quickly as possible. Keep one fire extinguisher near every fire hazard, such as the kitchen, furnace room, or fireplace. You should be able to quickly grab the fire extinguisher in the event of a fire. Avoid storing the fire extinguisher in a cabinet or closet immediately across from the fire hazard so that you can get to the extinguisher without burning yourself.

Avoid Candles

Candles create a cozy environment. However, a candle is an open flame and can quickly start a fire. Reduce your risk of a home fire by using battery-operated candles instead of open flame candles. Recreate the aroma of a candle by using an essential oil diffuser. In the event of a power outage, choose to use flashlights and battery-operated lanterns instead of candles.

Keep Pathways Clear

In the event of a fire, you must have an escape plan. Think through how you would leave your home should a fire break out and you were in the bedroom, bathroom, kitchen, etc. Consider the pathway in each of these scenarios. Remove tripping hazards that may slow you down as you're trying to exit your home. Keep all pathways clear in and out of the house. You should be able to open any door that leads to the outside, including your garage door. Exit doors should never have a complicated lock system that can prevent you from quickly escaping.

Smoke Sensibly

If you're an older adult who smokes, you have an increased risk of death caused by a home fire. Smoking is the leading cause of death of home fire deaths in older adults, according to the U.S. Fire Administration. Reduce your risk by smoking outdoors. Use a deep, heavy ashtray that won't easily flip over or fall off a table by accident. When you put out your cigarette, use water or sand to ensure it's entirely out. Never smoke in bed or around an oxygen tank.

Visiting Angels Southlake is here to help older adults prevent a house fire. One of the many home care services we provide is assistance with meal preparation. Our caregivers can help you safely make dinner and act as a second set of eyes so that you don't forget your stove is on. They can help you test your smoke detectors once a month to ensure everything is in working order. They can also help you keep pathways clear as they assist with laundry and other basic household tasks so that your escape plan is hazard-free. Rather than a pre-packaged list of services, we like to think outside the box and provide our clients with care that suits them. To learn more about what we can do for you, please contact us today by calling 817-684-1996.