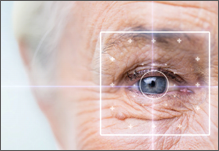 Five Health Conditions That Can Be Identified During Your Eye Exam
It has been said in literature that "the eyes are the window to the soul." However, your eyes can also reveal other health conditions happening within your body. Unfortunately, eye exams are often delayed or neglected by older adults. Many wait until their vision has significantly changed before scheduling an appointment.

According to the American Academy of Ophthalmology, older adults over 65 should schedule a comprehensive eye exam every one to two years. Comprehensive eye exams are essential for many reasons. They not only allow your eye doctor to monitor and track changes in your vision, but they can also detect other health issues affecting your entire body. Here are five health conditions that can be identified during your eye exam.

Diabetes

Approximately 25 percent of the U.S. older adult population has diabetes. 24.2 million older adults are pre-diabetic. This means that some older adults are entirely unaware that they are living with either condition. Your eye doctor can detect diabetes as they examine your blood vessels in the back of your eye. If they notice damage to your retina or leakage of blood or yellowish fluid, you may likely have diabetes.

High Blood Pressure

According to the National Health and Nutrition Examination Survey, 70 percent of older adults have high blood pressure. High blood pressure is often referred to as the "silent killer" because there are often no apparent signs or symptoms of the disease. However, high blood pressure is a significant disease as it increases your risk for heart disease, heart failure, and stroke. Fortunately, an eye exam can detect high blood pressure. Again, as your eye doctor exams the back of your eye, they can look for unusual bends, kinks, or bleeding from your blood vessels. These symptoms indicate hypertension or high blood pressure. If left uncontrolled, high blood pressure can lead to glaucoma.

Brain Tumor

Most people associate brain tumors with cancer. However, approximately one-third of brain tumors are cancerous. Whether or not a brain tumor is benign or malignant, the sooner it's detected, the better. Along with headaches and nausea, sudden changes in vision or abnormal eye movements can indicate signs of a brain tumor. The tumor can also cause increased pressure in the brain. That pressure is often transmitted to the eye.

Skin Cancers

According to the Skin Cancer Foundation, by age 70, one in five Americans will develop skin cancer. From age 50 on, melanoma is more significantly developed in men than in women. An eye exam can reveal the development of basal cell carcinomas, the most common form of skin cancer, on the eyelid or outer surface of the eye. Other unusual eye symptoms, such as droopy eyelids or irregularly shaped pupils, can indicate more severe conditions like cancer of the nerves or muscles.

Thyroid Disease

Despite its small stature, the thyroid plays a significant role in regulating your metabolism. It also affects your heartbeat rate, how deep you breathe, and whether you gain or lose weight. Thyroid disease increases with age. Approximately 20 percent of women over the age of 60 have some form of thyroid disease. One telltale sign of thyroid disease is protruding eyeballs. Another sign is retracting eyelids. Both signs can be identified during an eye exam.

If you're an older adult struggling with some daily tasks at home, whether it's due to vision changes or another health condition, know that Visiting Angels Southlake is here to help. Our comprehensive approach to senior home care is customized to meet your individual needs and preferences. We can help you out around the home or escort you to your next eye doctor appointment if transportation is a concern for you. Our goal is to keep seniors safe and happy in the comfort of their own homes. To schedule your free consultation today, please contact us by calling 817-684-1996.