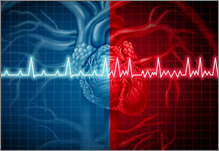 What Seniors Need to Know About Atrial Fibrillation
Atrial fibrillation (AF) is a serious heart condition that involves irregular and often rapid heartbeat. An irregular heartbeat means blood isn't flowing as it should, putting the individual at risk for stroke, heart failure, or other heart-related conditions. It's a condition that can come and go or become a permanent medical condition. The prevalence of AF increases with age. The majority of older adults with AF are between the ages of 65 and 85 years.
September is National Atrial Fibrillation Awareness Month. Here's what the American Heart Association wants seniors to know about the disease, as well as a few lifestyle tips to help those living with AF manage everyday life.
Who is most at risk for AF?
Older adults are most at risk for AF. As mentioned above, the prevalence of the condition increases with age. Approximately 10 percent of older adults age 80 and older have AF, compared to less than two percent in adults between 50 to 59 years. Although the condition is most common in older adults, AF can happen to anyone at any age.
What are the symptoms of AF?
The three most common symptoms of AF include an unexplained rapid heartbeat, shortness of breath, and lightheadedness. Other symptoms include dizziness, fatigue, overall weakness, chest pain, or a reduced ability to exercise. It's not uncommon for someone to have AF and experience no symptoms whatsoever. An electrocardiogram usually detects the condition.
What factors increase my risk for AF?
Certain medical conditions can increase an older adult's risk of AF. These conditions include high blood pressure, a previous heart attack or heart surgery, congenital heart defects, coronary artery disease, lung diseases, viral infections, sleep apnea, or diabetes. Lifestyle contributing factors include drinking excessive alcohol, smoking, and obesity.
Is AF preventable?
Most cases of AF are completely preventable. Eating a healthy diet and exercising regularly are just two healthy habits that can decrease the risk of AF. Another way to decrease your risk is to keep your blood pressure under control through proper stress management. Other ways to prevent AF include removing processed foods from your diet and eating a pescatarian diet (or adding fish and seafood to a vegetarian diet).
How do I manage life while living with AF?
If you've been diagnosed with AF, it's important that you follow your doctor's treatment plan. This could include making lifestyle changes to manage the disease and/or taking prescription medications to help prevent blood clots that can cause a stroke. It's critical that you take your medication as prescribed and continue with your medication regimen until your doctor makes changes.
You also need to have a conversation with your health care provider about your risk for stroke. Your doctor may recommend that you avoid common triggers, such as energy drinks, excessive alcohol, or stress, and recommend that you prioritize quality sleep. AF increases the risk for stroke. However, those living with AF can still enjoy a long, active life if they follow their treatment plan.
If you are an older adult living with AF, know that Visiting Angels Southlake is here to support you. We provide a variety of senior home care services that help older adults function independently and safely in the comfort of their own homes. Our compassionate caregivers can assist with meal planning and preparation, guiding you as you strive to remove processed foods from your diet. In addition to basic housekeeping, laundry, and grooming assistance, our caregivers offer companionship, a vital component of stress management. Let us relieve some of your stress and anxiety and help you cope while maintaining an active lifestyle. To learn more, please get in touch with us today by calling 817-684-1996.