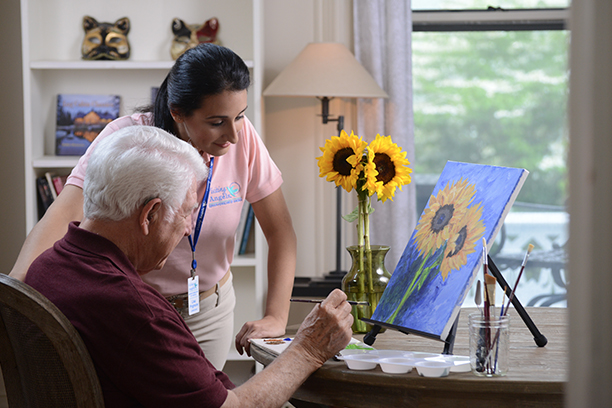 FAQs About In-Home Elderly Care from Visiting Angels South Phoenix
It is common for families to feel stressed out when they have to make a decision on professional home care services for a senior family member. You may have more questions than answers after the search for a trustworthy caregiver. If you have questions about in-home elderly care, Visiting Angels South Phoenix has the answers to help you make the right decision for your family member. We've been helping families in South Phoenix, Ahwatukee Foothills, Maricopa, Laveen, Waddell, Buckeye, and other nearby Arizona communities get the care and peace of mind they need for many years.
Below are some responses to the most common questions we've had about our in-home elderly care services.
Understanding In-Home Elderly Care in South Phoenix and Surrounding Areas
How Does In-Home Care Differ from Home Health Care?
In-home health care is when a qualified nurse, physical therapist, or occupational therapist gives medical care to a patient in their own home. In-home care mostly entails assisting the client with their own personal care duties that they are unable to do on their own.
Visiting Angels South Phoenix is not able to help with home health care needs, such as medication management or wound care. However, our in-home elderly care services can provide your loved one company and support with Activities of Daily Living (ADLs), such as bathing, dressing, making meals, moving about the house, and running errands.
How Can Seniors in South Phoenix and Surrounding Areas Benefit from In-Home Elderly Care?
In-home elderly care is a great option for seniors who:
Wish to age in place at home


Need a personalized approach to elderly care


Want to continue enjoying their everyday routine, but need a helping hand with certain tasks


Need someone to ensure their safety and well-being


Are looking for an affordable option for senior care


Have made renovations to their home over the years for accessibility and safety reasons
What is "Aging in Place"?
The ability to remain in one's own home, the home of a close family or friend, or a residential care facility as one ages is known as "aging in place."
How Elderly Care from Visiting Angels Helps South Phoenix-Area Families
What Home Care Services Does Visiting Angels South Phoenix Offer?
Visiting Angels South Phoenix provides a variety of personal care and companionship services to help your aging loved one remain independent and comfortable in their own home.
Some of the in-home elderly care services we offer include:
Mobility and ambulation assistance
Help with running errands
And more
Our Senior Life Care Navigation program also offers dementia care, palliative care, end-of-life care, and other specialized home care solutions.

Can Visiting Angels South Phoenix Provide Elderly Care in Assisted Living Facilities?
In addition to providing in-home care, Visiting Angels South Phoenix also offers residential senior care services. During a typical shift, staff at an assisted living facility may be responsible for more than one elderly resident, which means not every resident will get the personalized, one-on-one attention they deserve. Some families decide to hire a professional caregiver to supplement the assistance provided by facility staff in order to guarantee that their loved one gets the support they need.
You can be certain that your loved one will continue to receive excellent care from a caregiver from Visiting Angels South Phoenix for as long as they need it. By opting for supplemental senior care, you may be able to keep your loved one out of the more expensive and dependent section of the nursing home.
Arranging Elderly Care from Visiting Angels South Phoenix
How Can Families Get Started with Visiting Angels South Phoenix?
If you or an elderly loved one are interested in Visiting Angels South Phoenix's senior care services, the first step is to schedule a consultation with our care coordinator. During this meeting, you may discuss your needs, ask any questions you may have, and receive more information about our in-home care services.
If you decide Visiting Angels South Phoenix is the right option for your loved one, we can provide a free in-home consultation and care plan describing the elderly care services we will provide.
Visiting Angels will match your loved one with a competent, appropriate, and available caregiver. Caregiving duties will begin as soon as both you and your loved one are satisfied with the caregiver we've selected.
Can I Select a New Caregiver?
Yes. At Visiting Angels South Phoenix, we understand that the first step in delivering high-quality in-home elderly care services is finding the ideal caregiver for each individual client. A care coordinator will get to know your family member in order to provide a personalized suggestion for a caregiver via the Select Your Caregiver program.
Your senior loved one and their in-home caregiver may need some time to establish a routine that works for both of them. However, if you ever feel that your caregiver isn't doing a good job, you can always let our team know and we'll work with you to find a more suitable caregiver.
How Can I Change My Schedule?
We can adjust caregiver visit schedules to meet your loved one's changing needs. The plan is for your family's benefit, not ours. Although one week's notice is required for any permanent schedule modifications, Visiting Angels South Phoenix is understanding and accommodating of the fact that last-minute alterations are often necessary. Our team will make every effort to ensure that you get the schedule you need to account for unexpected events.
What if I No Longer Need Elderly Care from Visiting Angels South Phoenix?
If you decide you no longer need the in-home elderly care services provided by Visiting Angels South Phoenix, we ask that you give us two weeks' notice. If you need to cut down on the number of hours or days your senior loved one receives care, you may do so permanently with as little as one week's notice.
Learn More About Elderly Care from Visiting Angels South Phoenix
Contact our Phoenix, AZ office to learn more about our elderly care services!


Serving South Phoenix, Ahwatukee Foothills, Maricopa, Laveen, Waddell and Buckeye
Visiting Angels
SOUTH PHOENIX, AZ
16815 S Desert Foothills Pkwy #123
Phoenix, AZ 85048
Phone: 480-886-1165