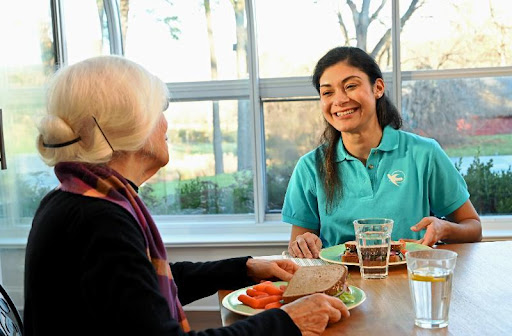 Consider a Caregiving Career
By providing compassionate and personalized home care, caregiving is an impactful and rewarding career. It offers an opportunity to make a positive difference in the lives of your clients and their families. Plus, there are many benefits to choosing a career in caregiving.
Here are some reasons why you should consider a caregiving career.
Helping Others
In-home caregivers provide much-needed companionship and support to seniors. Many seniors want to age in place but are unable to do so without help. By providing the assistance they need to stay at home, they can enjoy the comforts of their own surroundings instead of being in a nursing home or other facility.
Caregivers also support seniors dealing with a range of physical and mental health issues, such as dementia, Alzheimer's disease, arthritis, and more. In addition, they can alert family members if they notice any warning signs or changes in their client's daily routines or mental health.
For many families, extra help can drastically improve their lives and give them the time they need to pursue their careers and interests.
Flexibility and Mobility
As a caregiver, you get to enjoy flexible scheduling options that work around your lifestyle. Many employers offer full-time or part-time positions with weekend or evening shifts available, meaning you can work around other commitments.
Additionally, as a professional caregiver, you won't have to sit behind a desk all day. By traveling and visiting different homes, you'll experience different environments and cultures.
Growth Opportunities
The aging population is only growing, so there will always be a demand for qualified caregivers. In the U.S., 10,000 people turn 65 years old every day, so your job security and opportunities for career growth are excellent.
Additionally, you can choose to specialize in specific areas, such as dementia care or Alzheimer's care. This can open up even more career opportunities and help you stand out from other applicants. Plus, with experience working with diverse populations, you gain valuable experience in many areas that will benefit you in different job roles.
Personal Growth
Unfortunately, many jobs don't provide their employees with the opportunity to make a real difference in their lives. Caregiving is different. As a caregiver, you get to be a part of someone's life and make a lasting impact.
You also get the opportunity to grow as an individual. You'll learn more about yourself and gain confidence in your skills and abilities. Plus, you get to feel a sense of purpose and satisfaction from helping others. Sometimes, all we need is a reminder of the good we can do for this world to grow and challenge ourselves.
Conclusion
Whether you're looking for full-time employment or just want to work part-time, becoming a caregiver could be the perfect fit for you. In addition to helping people directly by providing quality senior homecare services, being a caregiver also offers the opportunity to give back to your community while advancing your personal growth. Plus, it's a gratifying career path with excellent job security and growth opportunities.
At Visiting Angels SW Oklahoma City, we understand the importance of providing compassionate and personalized care for your elderly loved ones. If you're interested in joining our team, call us at 405-703-7676 or apply online today. We are proud to serve seniors and their families throughout Southwest Oklahoma City, Moore, Norman, Mustang, Union City, Blanchard, Tuttle and Newcastle.