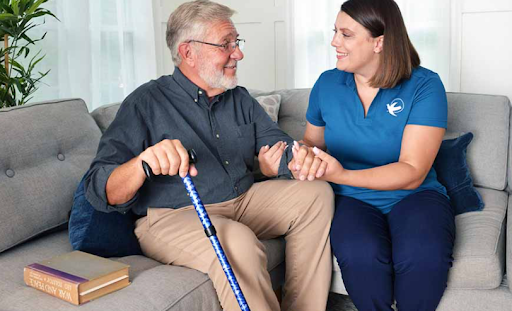 Skills You'll Develop as a Professional Caregiver
There are endless reasons to consider working as a professional caregiver. It's a rewarding job that helps you build lifelong skills. People who work as caregivers often find they have an easier time effectively communicating with others, have an easier time adapting to challenging situations, and know how to manage their time efficiently.
If you're considering a career change, now is the perfect time to learn what it means to be a professional caregiver and what skills you'll develop in your potential new line of work.
What is professional caregiving?
Professional caregivers provide nonmedical care to senior adults to help them age safely and comfortably. Caregivers with Visiting Angels provide at-home care, meaning we work with clients at their homes to help them navigate home life as they age.
Professional caregivers are not the same as nurses or certified nursing assistants (CNAs). Caregivers may only assist clients with nonmedical services, like light housekeeping, meal preparation, medication reminders, and personal grooming. Caregivers can also provide transportation to and from appointments or mobility assistance. Unlike nurses and CNAs, caregivers may not dress bandages, administer medications, or help with any other medical service, even in the presence of a nurse or doctor.
Skills of a Professional Caregiver
Many skills come with caregiving, such as communication, time management, attention to detail, and adaptability. While all these skills are crucial to caregiving, they're lifelong skills you will utilize in all aspects of your life.
Communication
Communication is one of the most critical skills you'll develop as a professional caregiver. Communicating with your clients is how you build a trusting and compassionate relationship. As a caregiver, you must understand how to share delicate information and respectfully address clients. Communication as a caregiver is vital for explaining to families how their loved ones are doing and sharing updates with office staff and other caregivers.
Beyond caregiving, communication is an essential part of life. You'll always need to convey information to others, and the easier you talk to people, the stronger relationships you'll have with individuals in your life.
Time Management
There's a lot of independence in caregiving. You're responsible for showing up to your client's home on time and completing specific tasks during your shift. You may even have days where you're responsible for helping your client get to an appointment on time, which involves proper time management skills. Showing up on time and efficiently doing your work is essential because your clients depend on you to live safely and comfortably in their homes.
Time management is an integral part of caregiving and a critical part of life. There will continue to be days when you're expected to show up at places at a specific time or ensure you have proper time allocated to complete various tasks—working as a caregiver will force you to be better with time management.
Attention to Detail
You need to be observant when working with clients. Are your clients eating and taking their medications? Do they need additional assistance beyond what you're able to provide? Are there any red flags that their health is declining? You don't need solutions to these questions, but you want to notice details that suggest your client may need something.
The ability to notice details can quickly transfer to any relationship. You may start seeing signs that your child needs help at school or that a spouse is overwhelmed at work. Even outside of relationships, your ability to pay attention to details can help you improve the efficiency of a home project or help you intercept a problem before it happens.
Adaptability
If you ask a professional caregiver what a typical day at work looks like, they'll likely have difficulty answering because there is no ordinary day. Every day is a little different, and you want to remain adaptable and embrace the day.
Being adaptable means you remain flexible when plans change and know how to navigate challenges as they come. Adaptable people are often calm in high-pressure situations and emergencies. They know how to think through solutions quickly to solve problems.
Working with Visiting Angels
The Visiting Angels SW Colorado team will love to connect if you think professional caregiving might be a good career fit for you. We're hiring part-time and full-time caregivers and offer all employees competitive pay, flexible scheduling, paid training, bonus opportunities, paid time off, and reimbursable mileage.
We understand the importance of providing compassionate and personalized care for your elderly loved ones. We proudly serve seniors and their families throughout Pagosa Springs, Cortez, Alamosa, San Luis Valley, Durango, CO & Farmington, NM. If you're interested in joining our team, call us at 970-585-7254 or apply online today.