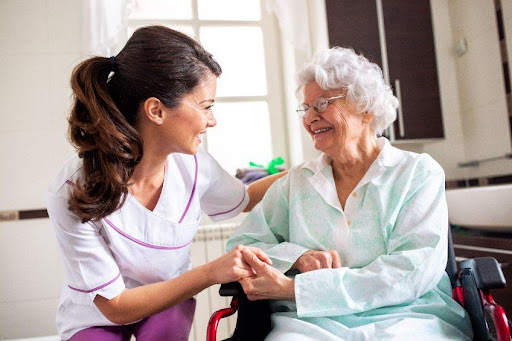 The Benefits and Challenges of Professional Caregiving
According to the National Alliance for Caregiving and AARP, family caregivers have significantly increased by millions from 2015 to 2020. These numbers are continuing to rise with the aging population. The growth of family caregivers means there is an opportunity for professional caregiving to grow as a career option for many individuals interested in working with seniors in their community.
If you're considering transitioning to a professional caregiver, plenty of benefits make it a worthwhile career choice. It also comes with a few challenges, but knowing those potential difficulties can help you prepare and assess if professional caregiving is right for you.
Benefits of Professional Caregiving
There are many reasons people choose a career path in professional caregiving. It's a fun and rewarding job that offers autonomy and flexible scheduling so you can have control of your career.
Flexible scheduling
We understand the importance of a proper work/life balance. When you start your role as a professional caregiver with Visiting Angels, you let us know what days and times you're available to assist clients, whether that's full-time or part-time. We will then do our best to find clients who require services during your available times. There are also plenty of opportunities to take extra shifts when you have free time.
Autonomy
Professional caregiving is primarily about one-on-one work with clients. As a caregiver, you have the autonomy to provide care the best way you see fit for your client. You don't have a supervisor onsite with you micromanaging your tasks or overseeing your day. You're responsible for showing up to clients' homes on time, completing necessary tasks, and providing quality care.
That isn't to say you won't have support from coworkers. Office staff and care coordinators are always available to provide guidance or assistance throughout your shifts whenever needed. You never have to feel afraid to ask for help and are encouraged to reach out if you need anything.
Instantly rewarding
If you've ever worked for a corporation or large company, you probably know how unmotivating work can get when you can't see how your actions directly impact your company or customers. When you work as a caregiver, you can instantaneously see how your efforts positively impact clients. There's instant satisfaction in helping a senior with laundry or driving them to a doctor's appointment and seeing how grateful your client is for your help.
Challenges of Professional Caregiving
Like any job, professional caregiving comes with its challenges. But understanding the potential hardships of the position can help you prepare and address them as they occur.
There's a learning curve
Working as a professional caregiver is a unique career that requires specific training before you can start one-on-one client interactions. There is a learning curve to understanding how to interact with clients and provide the needed services. Some services are straightforward, such as light housekeeping or transportation, but others, such as helping seniors with bathing or toileting, take time to learn. Not only do you have to understand the mechanics of the task, but you also have to learn effective ways to communicate with seniors to make them feel safe and comfortable, especially when assisting with intimate tasks.
Every new job has a learning curve, but don't let the fear of starting something new keep you from rewarding work. At Visiting Angels, we provide paid training to help new hires develop the necessary skills to provide quality care to clients. We want to ensure our caregivers feel confident in their ability to care before we ask them to start working with clients alone.
Some days are emotionally draining
The reality of caregiving is that you're working with seniors, some of whom might not be in the best of health. There will come days when you notice a client's physical or cognitive abilities decline, sparking various emotions within your client or yourself. Your client may grow frustrated or sad about their limitations, and those feelings may come out on you or your care. You may also be upset or overwhelmed in these moments, making it difficult to push through your shift and provide quality care.
In these moments, it's important to remember a few things. One is that your client's emotions do not reflect your ability to care for them. Your client is likely trying to cope with changes and doesn't know how to express their feelings. The second thing to remember is to practice patience and empathy. The more calm and upbeat you can remain in these situations, the easier it is to help your client.
Professional Caregiving with Visiting Angels
If you're ready to start your journey as a professional caregiver, the Visiting Angels Southwest Colorado team would love to connect. We are a locally owned and operated home care agency providing various non-medical services to help seniors live independently at home. Our services include light housekeeping, meal preparations, medication reminders, transportation, and more.
We're hiring part-time and full-time caregivers to assist seniors in Pagosa Springs, Cortez, Alamosa, San Luis Valley, and Durango, Colorado. If you'd like to learn more about career opportunities with Visiting Angels, you can send us your application online or call us at 970.264.5991.