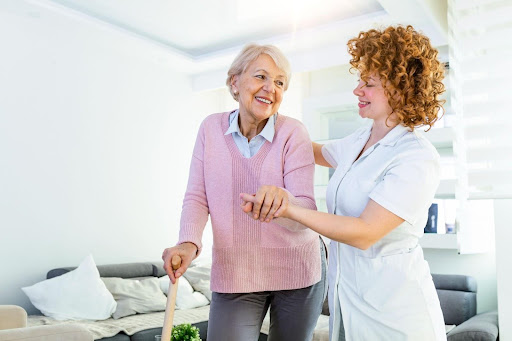 What is a Professional Caregiver?
Professional caregiving is a popular career choice for individuals of all ages seeking rewarding work. It's perfect for empathetic and dependable individuals with strong work ethics who love interacting and caring for others. As a caregiver with Visiting Angels, you'll have a flexible full-time or part-time schedule working with amazing clients and coworkers.
It's easy to fall in love with the idea of working as a professional caregiver. Still, before you jump into a new career path, it's vital to understand what a professional caregiver is and how they serve clients, families, and the community.
The Role of a Professional Caregiver
Professional caregivers are trained individuals who work with older adults to help them live safely and comfortably. A professional caregiver can work at an assisted living or independent community for seniors, or they can provide at home. When professional caregivers provide at-home care, they visit clients' homes so seniors can remain in a space familiar to them as they age.
Professional caregivers can provide various nonmedical services depending on the client's needs. A few popular services we provide at Visiting Angels include companion care, personal care, transitional care, end-of-life care, respite care, and dementia care.
Companion care is one of the most common request care services. Caregivers who provide companion care are primarily with clients to keep them company and help with daily tasks like cleaning and cooking.
Personal care includes all companion care services, but caregivers must also assist with personal care services such as bathing, toileting, dressing, and grooming.
Transitional care is for seniors who are returning home after a hospital stay. Caregivers providing transitional care work with clients to help reduce the risk of hospital readmission after discharge.
End-of-life care is for clients entering the final stages of their life. Caregivers may work alongside hospice teams to provide physical, emotional, and spiritual support to clients and their families.
Respite care is temporary care to take some of the stress and work off of family caregivers.
Dementia care is when the caregiver works with clients who have dementia. Clients with dementia often require more hands-on assistance, and caregivers need to be adaptable as care plans often change to meet the ever-changing needs of dementia clients.
Professional caregivers are not nurses
Understanding the distinction between a caregiver and a nurse or nurse's aide is essential if you plan on working as a professional caregiver. Caregivers may not provide medical services to clients, even in the presence of a nurse. Medical services include changing bandages, administering medications, or cutting fingernails. If a client needs a medical service, the caregivers must find the proper person to assist them.
Starting Your Career with Visiting Angels
Visiting Angels Southwest Colorado is a locally owned and operated home care agency providing in-home care to seniors. We're proud to be one of the top agencies in the nation and take pride in positively impacting our community.
At Visiting Angels SW Colorado, we always seek reliable caregivers to join our team. We offer competitive pay, flexible scheduling, bonus opportunities, paid time off, reimbursable mileage, clear career paths, and one-on-one client interaction. To become a home care provider, apply online today or call 970-264-5991.