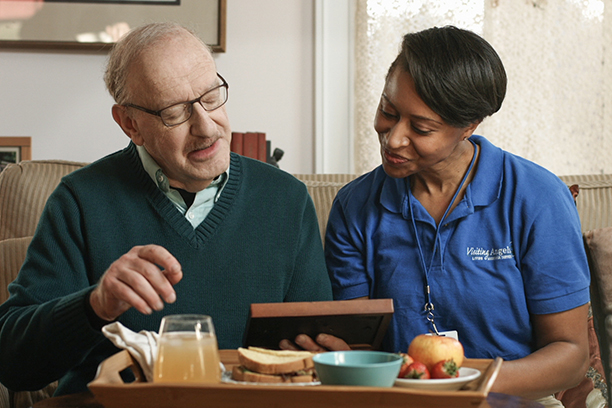 Elder Care for Your Loved One in Greater Springfield, MO
Visiting Angels Offers a Wide Range of Elder Care Options in Springfield, Nixa, Ozark, Republic, and Surrounding Areas
Elder care services benefit seniors as they allow the individual to remain in their home for a longer period of time as they start to require additional help.
Some individuals are hesitant to take advantage of services of this type, as they believe it will restrict their independence and freedom, yet nothing is further from the truth. With the help of a caregiver, families find they get some much-needed rest. Caring for a loved one is something many family members wish to do. However, the time spent taking care of this individual can be overwhelming, and the caregiver may find they are exhausted or stressed. This can be true even when the duties are being shared by multiple people.
Elder caregivers need time away, not only to have a break, but also to handle their own affairs. In this situation, respite care becomes of great assistance. This type of care allows the caregiver to get a break for a predetermined period. The trained caregiver comes in to take over the routine duties normally handled by the family members, allowing them the space needed to take on other tasks or recharge.
How Can Care Benefit Your Aging Loved One?
The senior benefits also, as they will not be removed from their familiar surroundings. They can remain in the home and keep their regular routine. For many elderly individuals, this is of great importance. In the past, families would need to send their loved one to a nursing home or other facility where they would need to compete for the attention of staff members. A Visiting Angels caregiver has only one person to focus on: your loved one. This one-on-one interaction is very helpful to seniors.
We offer the following elder care services to keep your loved one independent:
Elder care is a solution every family needs to consider when they must be away from their loved one. Before bringing in a caregiver, however, families should discuss doing so with their loved one. Surprises often are not appreciated, and the goal of Visiting Angels of Springfield is to make sure the client is comfortable. Having this conversation beforehand helps to ensure this is the case.
Visiting Angels of Springfield
Visiting Angels of Springfield is one of the most trusted elder care providers in Springfield, Nixa, Ozark, Republic, and the surrounding area. Contact our office to discuss your loved one's needs, so we can begin the process of determining if we are a good fit for your senior and the entire family.
Serving Springfield, Nixa, Ozark, Republic, Branson, Hollister, MO and the Surrounding Areas
Visiting Angels
SPRINGFIELD, MO
1259 E Republic Rd
Springfield, MO 65804
Phone: 417-863-8006
Fax: 417-863-1860