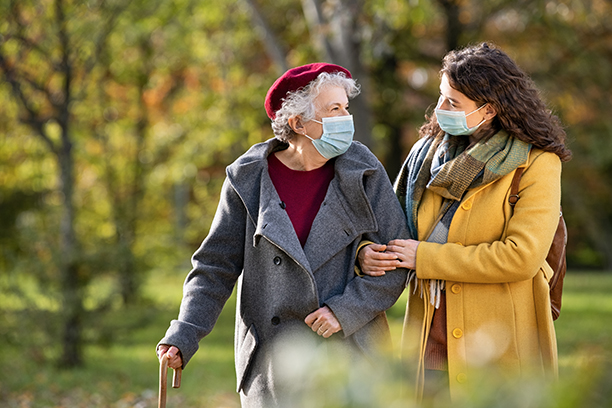 Hospice Care vs Elderly Care in Greater Springfield, MO
Visiting Angels Offers Elderly Care in Springfield, Nixa, Ozark, Republic, and Surrounding Areas
When families must decide on the right level of end-of-life care there are many options to consider. Elderly care and hospice care are commonly used together, but they make clients' lives more fulfilling and comfortable in different ways. Learn more about the differences between these two vital forms of care.
Terminally Ill Patients Receive Hospice Care
Generally those with terminal illnesses who have less than six months to live receive hospice care. While care arrangements are extendable for those who outlive doctors' predictions, a patient may come out of hospice care if their condition improves significantly.
On the other hand, Visiting Angels of Springfield's elderly care services are available to all seniors, with no terminal diagnosis necessary. Because we provide in-home care, we're focused on providing loved ones with the highest quality care for the rest of their days.
The Differences Between Hospice and End of Life Care
In most cases, hospice care is prescribed by a physician who wishes to reduce a terminally ill patient's suffering and pain during the final days of their life. Both hospice care and palliative care seek to alleviate patients' pain and make them as comfortable as possible.
Visiting Angels of Springfield's team of elderly care experts, are focused on helping loved ones when they have trouble with certain activities, such as meal prep, housekeeping, meal preparation, and personal care.
Care Availability
While a hospice provider is always on call for emergencies, they typically aren't there every day. Rather, they visit when necessary to provide any medical assistance the patient needs. A caregiver can stay with the patient for as long as they're needed, day or night, to help with activities of daily living and keep the patient comfortable while providing the highest possible level of care.
Companionship for Seniors
Hospice care providers visit clients to address medical concerns and dispense medications, but they're primarily focused on the patient's physical well-being. With help from the team at Visiting Angels of Springfield, clients can get the companionship they need at any time of day. Our caregivers provide loved ones with help, emotional support, and a sympathetic ear, and we go beyond the basics to give our clients the companionship they need to live a more fulfilling life.
Making the Transition From Senior Care to Hospice
Families can benefit from a caregiver's help during the transition from standard senior care to the hospice setting. Visiting Angels of Springfield can work with other providers to fulfill a patient's needs, answer their questions, and arrange for hospice care as the situation changes.
Both Types of Care Provide Comforting Assistance
While elderly care and hospice care fulfill different needs for seniors, there's a single goal: to make patients' lives better and help them be as happy and comfortable as possible for the time they have left. Both care options go hand in hand, but they serve different purposes. While hospice care addresses a patient's medical needs, caregivers provide the help and companionship seniors need to live life to the fullest.
Serving Springfield, Nixa, Ozark, Republic, Branson, Hollister, MO and the Surrounding Areas
Visiting Angels
SPRINGFIELD, MO
1259 E Republic Rd
Springfield, MO 65804
Phone: 417-863-8006
Fax: 417-863-1860