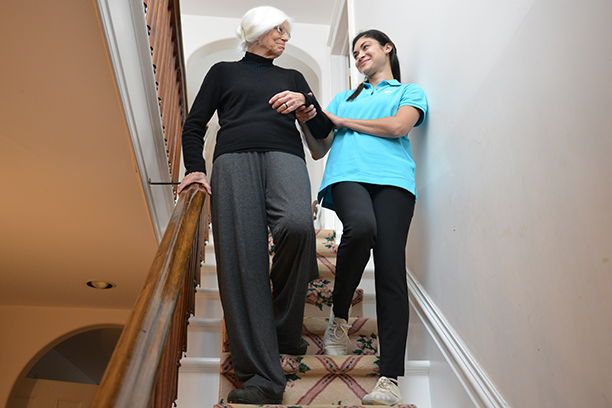 Dementia Care in Falls Church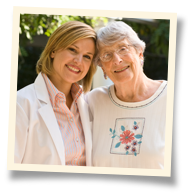 Tips For Dealing With Sundowning
If you've been providing dementia care for a loved one, you may have already experienced "sundowning." This term refers to an uptick in agitation, anger, and outbursts from seniors with dementia, typically starting at dusk. At Visiting Angels® Springfield VA, we support seniors and families throughout Falls Church. We can help you manage the effects of sundowning.
Let's review some recommendations from our team.
How To Help Your Loved One Cope With Sundowning
We know how tough it can be when a loved one is angry, frightened, or confused. Worse still, it may take a bit of time before you find the best ways to manage any sundowning.
Everyone deals with stress and confusion differently. We recommend trying a few different approaches to see what works:
Leave intensive tasks for earlier in the day. For those with dementia, even visits with family may be difficult to navigate. These types of activities involve lots of stimulation and complex thinking. If possible, schedule these events early in the day, so your loved one doesn't have to participate at a time when they're already agitated.
Reduce overall stimulation as much as possible. For seniors who are on edge, frustrated, or confused, having additional stimulation may simply be too much. Try keeping the TV off, and minimizing the noise and disruption from chores. This can lessen a person's confusion when they're dealing with sundowning.
Find calming or soothing activities they enjoy. Try to identify activities which are both enjoyable and calming for your loved one. Maybe this means putting on a favorite song, or giving them photo albums to browse through. These sorts of tasks can bring enormous peace of mind for seniors with dementia.
Consider setting up dementia care. If a family caregiver is present, it's only natural for them to feel tense or frustrated at times. Unfortunately, it's likely that your loved one in Falls Church is picking up on these signals, which may contribute to sundowning. Professional care in Falls Church can alleviate the tension for everyone, while offering you much-needed respite.
Providing Compassionate Dementia Care in Falls Church
At Visiting Angels Springfield VA, we can provide support to a family caregiver, or we can handle all dementia care for your loved one. We offer compassionate support to families in:
Falls Church
Fairfax Station
Burke
Springfield, VA
Bailey's Crossroad
West Springfield
Annandale
Fairfax
And throughout the surrounding area
Learn more about our dementia care options in Falls Church. Contact Visiting Angels Springfield VA, and we can answer your questions.
Serving Springfield, Annandale, Burke, Falls Church and the Surrounding Area
Visiting Angels
SPRINGFIELD, VA
8136 Old Keene Mill Rd #A207
Springfield, VA 22152
Phone: 703-569-2380
703-569-2161
Fax: 703-569-2403