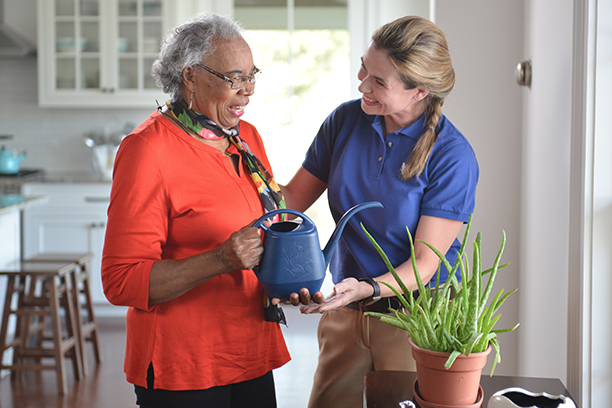 Transitional Care in Burke Helps Avoid Hospital Readmissions
Ready-Set-Go Home with Transitional Care
If you have a senior loved one who's been a patient at the hospital, you know how much they can look forward to returning home. At Visiting Angels® Springfield VA, our transitional care services offer assistance to seniors in Burke, Annadale, Springfield VA, and the surrounding communities who have been discharged from the hospital. We're committed to helping senior adults living in or around Burke avoid a hospital readmission so that they can remain in the comfort of their own homes.
Why Transitional Care: The Main Causes of Readmissions
Seniors may experience a hospital readmission for a variety of reasons. Some of the most common causes for hospital readmissions are as follows:
Issues with medication scheduling or dosages
Difficulty maintaining health at home
Fatigue or exhaustion related to a disruption in routine
Failure to attend important follow-up appointments
Disregard for specific discharge instructions
How Transitional Care Limits the Risk of Hospital Readmissions
At Visiting Angels Springfield VA, we reduce the risk of hospital readmission for seniors in the Burke area using a three-pronged approach to our transitional care:
We begin transitional care in the hospital. We believe that successful transitional care starts in your Burke area hospital. That's why we collaborate with your loved one's hospital discharge planner to gain a better understanding of what their needs at home will be. We also provide your loved one with our discharge planning guide, "Ready-Set-Go Home." This guide provides information about issues surrounding readmissions and helps your loved one understand the steps they will need to take in order to ensure success after their discharge.
We provide excellent in-home transitional care in Burke. Our compassionate caregivers at Visiting Angels Springfield VA offer transitional care which includes monitoring and support for your loved ones at home in the Burke area. This time at home will give your loved one's caregiver special insight into their post-discharge behavior. If the caregiver notices any risk-enhancing behaviors, such as missed medication dosages or failure to follow-through with specific instructions, these will be reported and addressed promptly.
Our office near Burke offers additional support. Our office staff in the Burke area also provides transitional care using specialized tools and resources to keep an eye on clients who show a high risk for a hospital readmission. Our staff can also facilitate reminders and deliveries, if needed.
If you have a senior loved one in Burke, Annandale, Springfield VA, or the surrounding communities who could benefit from our transitional care services, don't hesitate to contact Visiting Angels Springfield VA today.
Serving Springfield, Annandale, Burke, Falls Church and the Surrounding Area
Visiting Angels
SPRINGFIELD, VA
8136 Old Keene Mill Rd #A207
Springfield, VA 22152
Phone: 703-569-2380
703-569-2161
Fax: 703-569-2403