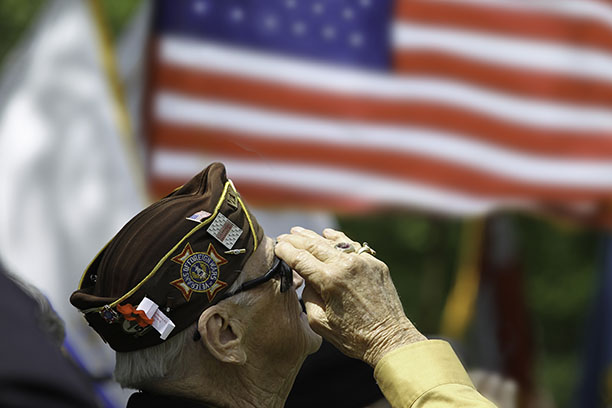 Veteran Services in Staunton, VA
Important Resources Your Veteran Loved One Can Use, Including Home Care
It's nice that we celebrate Veteran's Day, that we show our heroes the respect and gratitude they deserve. But our vets need a more tangible demonstration of appreciation, particularly when it comes to healthcare. As veterans age, they can face different challenges than non-veterans, especially when they're coping with injuries or ailments connected to their time in the service. In Virginia, we have a lot of Veteran's, and at Visiting Angels Fredericksburg, we are an approved Veterans Agency!
There are several available veterans' benefits, but navigating what's offered, how to access benefits, what's included and what it takes to be eligible can be daunting. Lawyers and other advisors who specialize in late-life planning for veterans can be an invaluable resource, but even that can seem out of reach when you're just trying to get your loved one home care. Because when an issue arises, be it an acute injury or a breaking point in the decline of mental or physical faculties, your veteran loved one needs help. Home care service is a great option.
The Department of Veterans' Affairs (VA) has several programs that can help provide financial assistance for home care. Below are the fundamentals you should know to get the veteran in your life—and/or his or her spouse—the home care assistance they have earned.
(Note: The VA offers a range of healthcare benefits, including home and community-based services, a summary of which is found here. The information included below speaks directly to home care.)
What Are the VA's Eligibility Requirements?
You may be eligible for VA benefits if you were active-duty military, air or naval service, and did not leave under dishonorable conditions (or if you're the qualified dependent of someone who fits that definition). The VA sorts those seeking assistance into eight priority groups based on service history, income level and disability rating. Specific factors increase your priority level, including:
Receiving VA compensation for service-connected disabilities, or were discharged for a service-connected disability
Being a recently discharged combat veteran, a former Prisoner of War, or a Purple Heart recipient
Having served in Vietnam, during the Gulf War or at Camp Lejeune during specified date ranges
Receiving a VA pension or qualifying for Medicaid
Who Can Get Home Care, and What's Included?
Extended, geriatric and home care services are all included in the standard VA benefits, and as such, they're available to enrolled veterans who, in their words, "meet the clinical need for the service." The benefit covers standard home care services, such assisting with food and medication, housework, bathing and grooming, moving around and getting to appointments.
A VA social worker will work with the veteran to assess his or her needs. The veteran's doctor(s) and primary caregiver will be a part of that process to help determine what the specific benefit will be for that veteran, including a caregiver self-assessment in which that person can state their own needs and availability. The program exists to help alleviate caregiver fatigue, too. Levels of assistance, as well as factors like the desire social contact, are part of the conversation. The benefit will last as long as the assistance is needed.
The VA has a network of organizations that have contracts with the department to provide services, which can allow veterans to stay in their homes rather than go to nursing homes. There is no age requirement, and the VA's home care benefits can help veterans who need home care services at any age get the care they need.
How Does One Apply and Start Getting Benefits?
Applicable veterans will need their Social Security number (and those of any qualified dependents), most recent tax return, and account information for any current health insurance. With that information, your loved one can apply online by clicking here and mailing it to Health Eligibility Center, 2957 Clairmont Rd., Suite 200, Atlanta, GA 30329 or taking it in-person to a VA medical care facility.
Your loved one should hear back from the VA within a week; if he or she hasn't, call them (1-877-222-VETS) to check on the status of the application. Once approved, the VA will help your veteran set up his or her first doctor's appointment, and then discuss any particular care benefits—such as home care—that may be required.
In addition to these benefits, veterans are entitled to extended FMLA (Family and Medical Leave Act) benefits, as well as disability payments through the VA for conditions caused or exacerbated by active-duty service.
Learn more about the superior home care services from Visiting Angels.
Serving Staunton, Waynesboro and the Surrounding Communities
Visiting Angels
STAUNTON, VA
427 Lee Jackson Highway A-01
Staunton, VA 24401
Phone: 540-688-3958
Fax: 540-688-3960