Now Hiring Home Care Aides in Port Huron!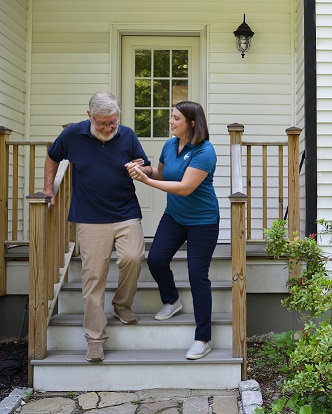 Looking after others is some of the most important work you can do. If you're friendly, compassionate, and love to be helpful, we're looking for care professionals just like you! We're now hiring caregivers in Port Huron.
At Visiting Angels® St. Clair, we set a high standard for senior care. Our exceptional caregivers make this possible every day. We work alongside family caregivers as well as supporting clients who live alone. We help seniors overcome the physical and emotional challenges they face on a daily basis, so they can flourish in the comfort of home.
With our agency, you can learn the ropes from home care leaders. We offer great pay, training opportunities, and shift flexibility for those who need it. We look after you, so you can look after those who need help the most.
Seeking Warm-Hearted, Hard-Working Care Professionals
Providing professional care requires patience, compassion, and a generous approach. At Visiting Angels St. Clair, we're looking for caregiver candidates who can demonstrate all of these qualities. We're hiring caregivers who are friendly, warm, and have great observation skills.
You should be comfortable working on your feet, problem-solving, and listening to clients. Our caregivers in Port Huron may be expected to perform a wide range of tasks on a care plan, including:
Mobility assistance and fall prevention
Help with grooming, dressing, and bathing
Laundry and light housework
Grocery shopping and running errands
Preparing and cooking meals
Providing medication and appointment reminders
Offering companionship
Companionship and emotional support is a crucial part of the work we do. Our caregivers are sensitive to the stresses and anxieties faced by aging seniors, and we help to keep clients engaged and comfortable.
We understand that sometimes, all you need to turn a bad day into a good day is the presence of a great caregiver. At Visiting Angels St. Clair, we always strive for great caregiving.
Help Us Give Back To Our Senior Community
Does this sound like a good fit for you? If so, we're now hiring caregivers in:
Port Huron
Marysville
Fort Gratiot Township
St. Clair County
And throughout the surrounding area
With our agency, you'll have the opportunity to give back to seniors and make a meaningful difference every day. Together, we can make sure our senior community is well-looked after, with the professional care and support they need to flourish.
Visiting Angels St. Clair is hiring caregivers who can travel to Port Huron and the surrounding region. Fill out our online form to get started on your caregiving journey.