Benefits to Senior Care in Sterling Heights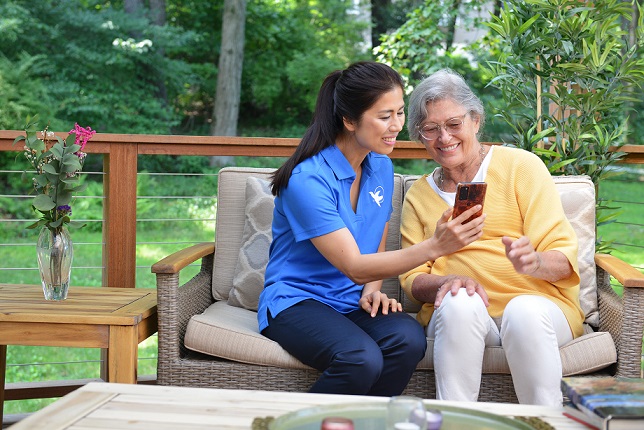 With our in-home senior care services, Visiting Angels® Sterling Heights helps to keep local seniors in their own homes. Our service includes a variety of duties to improve their home safety and make their daily life easier. Our mission is to deliver the vital support many seniors need to avoid the move to a care facility and continue life in their own space.
Privacy is important for everyone, and for seniors this can be even more crucial. Many seniors struggle with declining memory, reduced physical abilities, and other issues. Dealing with all of this is much easier in a comfortable and private environment. By providing help inside their home, we can help preserve this privacy and save them from the uncomfortable move to a care facility, where they would experience very little privacy and independence.
Another huge advantage of in-home senior care over life in a care facility, is the amount of direct, one-one-one support they can expect. Our service is completely designed around their specific needs, and our caregivers are fully focused on their individual care. This level of dedicated support won't be found inside a care facility.
By remaining at home with our care, your loved one gets to experience more privacy, dignity, and independence while getting the specific care they deserve.
About Our Senior Care in Sterling Heights
Our senior care is the best solution for local seniors and their families. For those that care for an elderly relative, this situation can bring a lot of pressure. Many are overwhelmed with feelings of guilt, believing that if they don't drop everything to help their loved one, they'll end up in a care facility. With our service, you can secure their ongoing comfort and safety without depriving them of their cherished home. We offer flexible scheduling, affordable rates, and a number of great benefits, including:
Customized assistance adapted to their needs
A guilt-free resting opportunity for loving relatives
Friendly and positive companionship
Increased independence and privacy
Fall prevention, medication reminders, housework, meal prep, and more!
Senior Care in Your Area
We provide service to seniors throughout:
Sterling Heights
Warren
Utica
Clinton Township
Shelby Township
and the surrounding areas
To get started with our senior care, contact Visiting Angels Sterling Heights and sign up for your initial care consultation today.