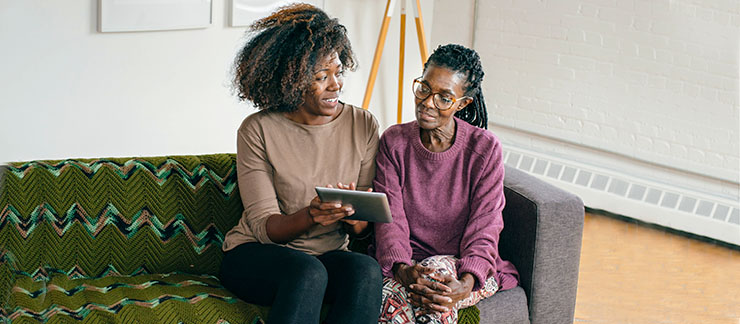 How Can Home Care Support Seniors with Dementia?
Visiting Angels' franchise owner Debra Desrosiers and her team have provided meaningful in-home care for seniors with dementia over the past 18 years. She has augmented her senior care approach with continuing education opportunities to create a worthwhile platform to give back to her community. She offers dementia education seminars and trains her team of in-home caregivers to effectively and compassionately support seniors and their families.
"One of the things I hear a lot from family members is, "Oh, they only have a little bit of dementia'," said Desrosiers. "But when someone shows signs of dementia, no matter how mild, it means their brain is declining. And they may not be able to consistently care for themselves at home."
That's where in-home dementia care from a reputable organization, such as Visiting Angels, can provide a much-needed personalized service for seniors and their families.
Tips to Support Seniors with Dementia

Professional home care services can keep seniors with dementia safe while reducing their anxiety and helping them stay active and productive. Desrosiers lists the following strategies her team uses to support older adults with dementia:
Manage the environment
Visiting Angels' caregivers can help reduce the risk of accidents around the home by minimizing fall hazards for seniors and monitoring bathing, toileting, appliance use, and other activities. In-home caregivers can also reduce stress in people with dementia by making the environment less overwhelming.

"A dressing table cluttered with makeup, jewelry, and other items or a closet full of clothes may make a person with dementia feel overwhelmed. It might even be a painful reminder of the things they can no longer do," said Desrosiers. "Our caregivers can help simplify a senior's life by minimizing decision-making, while still allowing them to maintain independence by only assisting when needed."
Use effective communication
Visiting Angels' caregivers receive extensive guidance on how to communicate effectively with people who are living with dementia. Caregivers also coach family members by recommending the following communication techniques:
Smile
Avoid arguing
Avoid asking questions such as "Do you remember who I am?"
Greet your older loved one and introduce yourself when you arrive
Keep your composure and avoid becoming anxious or frustrated
Approach older adults from the front so they have a clear view of your face
Keep sentences clear and concise
Encourage meaningful activity
Everyone — including older adults with dementia — needs to feel accomplished and purposeful. Engaging seniors in significant activities can improve their self-esteem and reduce anxiety.

"Some older adults with dementia find themselves wandering around or feeling anxious at home because they feel there is something they're supposed to be doing and can't remember what it is," said Desrosiers. "Getting information from the family about hobbies, activities, career, and life experiences can help our caregivers encourage a loved one's participation in favorite activities."

Caregivers can help older adults maintain comforting mealtime, bedtime, or other routines — as well as seasonal traditions, such as holiday cooking and baking, decorating, and sending letters or cards.

"Our caregivers fill in pieces that older adults aren't able to do themselves," said Desrosiers. "For example, an older adult may be able to write and address their own holiday cards, but we might help them find their address book, shop for cards, and keep track of which cards they have written."
Gain trust
It is often challenging for individuals with dementia to accept help with bathing, dressing, toileting, and grooming. To avoid "bathing battles" or dementia and anger issues, Desrosiers' staff establishes trust by engaging older adults in conversation about things important to them — and listening to what they say.

"I might ask about their career, their family, or an interesting piece of artwork in their house," said Desrosiers. "There are meaningful things in every home. You just have to use your powers of observation to look for ways to connect."
Promote healthy eating and hydration
Older adults can sometimes struggle with dental, swallowing, or visual perception issues that make eating more challenging.

"We use tools such as color contrast between the food and the plate to promote healthy eating and encourage hydration by serving melons, Jell-o, and other water-rich foods," said Desrosiers. "We also learn what mealtime routines they prefer to follow, such as eating in the dining room or at a specific time."
Guide family members
Families sometimes seek home-care assistance after their loved ones begin showing early signs of dementia but before they have a formal dementia diagnosis. Desrosiers said an accurate medical diagnosis of the dementia type can inform long-term care planning and help caregivers better manage the condition.

"Our caregivers can keep a diary of symptoms and work with the family to take notes that can be shared with their loved one's doctor," said Desrosiers.
Address specific concerns
If specific aspects of daily life are causing stress or anxiety, an in-home caregiver can take steps to manage these challenges. A qualified in-home caregiver can discover ways for an older adult to stay active and safe during stressful situations. Caregivers can also tap into the senses — such as smell, taste, touch, and hearing — to help older adults feel comfortable.

"We can use activity blankets, for example, to keep fingers occupied, add chocolate chips to sweeten food if they aren't eating well, or play a soothing hymn or song if they feel anxious," said Desrosiers.

These useful tips and tricks — combined with education and other strategies — can help support older adults and families in managing symptoms of dementia.
If you're concerned a loved one is unable to care for themselves following a dementia diagnosis, consider a Visiting Angels in-home care specialist. Our Visiting Angels care coordinators are available to discuss your loved one's needs during a free home care consultation.