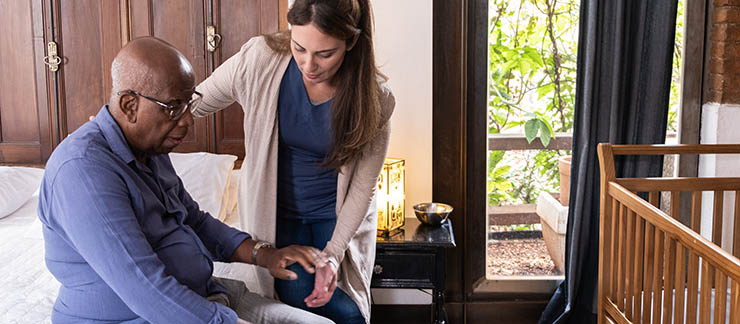 Palliative Care: A Non-Medical Approach to Provide Comfort
"Palliative care" may seem like a medical term, however, non-medical methods are available to relieve pain, discomfort, stress, and other disease symptoms for health conditions. For example, Visiting Angels' personalized, empathetic model focuses on improving comfort, well-being, and quality of life through a more holistic and comprehensive approach.
How Does Visiting Angels Provide Palliative Care?
Visiting Angels' non-medical palliative care concentrates on each client based on their unique needs—whether they are managing a serious or chronic condition or dealing with aging-related limitations. In addition to making older adults feel physically comfortable, caregivers also seek to improve spiritual, social, and emotional well-being.
Here are a few examples of how palliative care may be delivered by Visiting Angels:
Physical
Helping an older adult sit up in bed to reduce shortness of breath, preventing the development of bedsores for wheelchair-bound individuals, or preparing a variety of healthy foods tailored to their tastes/requirements.


Spiritual
Offering transportation or technical assistance for worship services or helping with access to faith-based resources, such as literature or online articles.


Social
Providing companionship and reducing feelings of isolation, encouraging social activity within the community, and facilitating communication (in-person, phone, or virtual) with loved ones.


Emotional
Taking measures to reduce anxiety, confusion, and agitation in patients with dementia or providing a comforting presence in the home during overnight hours.
Seniors may sometimes feel like a burden because they require more assistance in their later years. Visiting Angels' services instill seniors with a feeling of hope and healing that helps them navigate challenges from aging or declining health. Our unique approach customizes and personalizes services to meet distinctive needs and offers support for the family.
Can Visiting Angels' Services Complement Medical Palliative Care?
Yes! Older adults living with a serious health condition – or needing end of life care – can receive medical palliative assistance from a skilled provider in addition to Visiting Angels' support services. Some examples may include:
An older adult diagnosed with cancer receiving medical palliative care to help manage chemotherapy side effects. At the same time, a Visiting Angels' in-home caregiver can provide companionship, meal preparation, and light housekeeping services during treatment.


An elderly loved one receiving in-home hospice services while approaching the end of life. Visiting Angels can provide day-to-day personal care support.


A senior managing chronic heart failure taking medication to reduce symptoms. Visiting Angels can help with personal care tasks, mobility, positioning, and light housekeeping.
Discover the Visiting Angels Difference
Although Visiting Angels does not provide medical services, a professional home caregiver can enhance your loved one's physical, spiritual, social, and emotional comfort — regardless of age or health status.
Contact your local Visiting Angels' home care agency for more information about our dedicated and compassionate palliative services. We are happy to schedule a no-cost, no-obligation consultation.