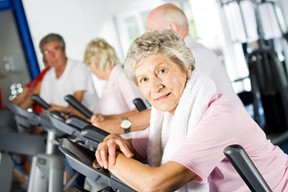 Physical Activities for Seniors to Try
Warm weather is sweeping through the Midwest, meaning it is a great time to enjoy the outdoors with physical activity. If you're new to physical activity or haven't been physically active as much as you'd like in your older age, it may be intimating to get started. Luckily, exercising isn't as scary as it can look. All you have to do is find an activity that is most beneficial for you.
The Benefits of Physical Activity
Regular physical activity is linked to several health benefits. Being physically active helps keep muscles strong and can help maintain mobility as you age. Sticking to an exercise routine also helps maintain a healthy weight which leads to less stress on joints. It also leads to better sleep. Giving your body something to do during the day makes you more tired at night and makes it easier to fall asleep.
Beyond physical benefits, staying active also improve your mental health. When you exercise, your body releases chemicals and hormones that reduce stress and anxiety. These chemicals include endorphins, serotonin, and dopamine, which are also responsible for triggering your brain to feel happy.
Physical Activities for Seniors
It can be challenging to stay physically active as you age, but there are low-impact activities that can get your heart rate up, tone your muscles and improve your flexibility and mobility.
Hiking
If you enjoy walks but want to change up your scenery, consider hiking. There are many great hiking options in Minnesota. Before embarking on your first hike, be sure to review the trail on a mobile app such as All Trails to ensure it's easy walking, and there are no steep inclines that could increase your chances of falling.
Swimming
Swimming is an excellent activity for seniors because there's essentially no physical impact on the body. With summer near, you can try swimming at a local lake, or you can contact your local fitness center to use an indoor pool. You can either enjoy a few freestyle laps around the pool or consider signing up for a water aerobics class.
Yoga
Yoga is a great way to raise your heart rate with slow movements. It's also an excellent activity for improving strength, flexibility, and mobility. You can follow an online yoga course in the comfort of your own home or visit a yoga studio if you'd like an instructor to walk you through each pose and position.
Cycling
Much like swimming, cycling doesn't put a lot of physical strain on the body. It's also a great cardio workout for burning calories if you're looking to lose weight. Enjoy a scenic route by taking your bike to a bike path or park. Or you can visit your local fitness center and peddle away on a stationary bike.
Tai Chi
Tai Chi is a material art also commonly referred to as shadowboxing. It combines self-defense and meditation for a complete mind and body workout. You can take Tai Chi movements slowly to work on flexibility and mobility, but you can also speed them up to work on your balance and cardio. Contact your local material arts studio to learn the basics of starting Tai Chi.
Tips for Staying Safe
Working out at any age comes with risks. Minimize your risk of injury with these simple tips!
Talk to your doctor- Before you start a new workout routine, even if it's a low-impact activity you're only doing once a week, it's best to speak with your doctor to avoid injury. Let your doctor know what types of activities you're considering, and share your goals for why you want to become more physically active. Are you trying to lose weight? Do you want to improve your mobility? Giving your doctor the full scope will allow them to determine what physical activities will be best for you depending on your goals.
Start slow- It's easy to let your excitement get the best of you when trying something new, but make sure to start slow when trying a new physical activity. Pick two to three days a week for your workout and stick to 20 to 30 minutes a day. As your body becomes accustomed to the movement, you can start adding more days per week or exercise for longer sessions. Whatever you choose, be sure to listen to your body and adjust accordingly.
Exercise with friends- Some seniors fear injury when doing something physical, which is an entirely valid fear. One of the best ways to stay safe while exercising is to do it with a friend. Having someone around to seek help in case of an emergency can help ease your mind when embarking on a new physical activity. Plus, it exercising with a friend is always more fun.
If you don't have friends or family nearby to keep you company while exercising, the team at Visiting Angels St Louis Park, Minnesota, would be happy to help. Our compassionate caregivers can accompany you on walks, provide transportation to a swimming lesson or even join you for a yoga session. We also offer at-home care services such as personal grooming and meal preparation to help seniors live independently at home. Our St Louis Park office serves those in Minneapolis, St Louis Park, Golden Valley, Richfield, and the West Metro. To learn more about our services, you can contact us online or give us a call at 952.935.0789.