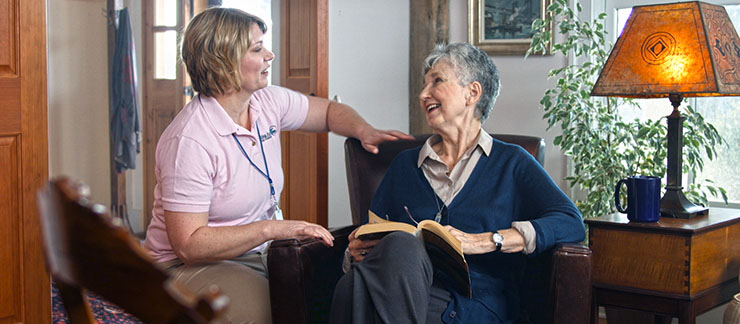 When to Choose Senior Home Care
Choosing senior home care for your loved one can seem overwhelming as you narrow down the best overall option. Your decision process entails your loved one's specific needs, family circumstances, aging-related concerns, budget, time, and other factors.
An in-home personal caregiver might be your best choice if you're looking for quality senior care that promotes aging in place and is cost-effective. Here are common scenarios where it makes sense to consider in-home personal care:
Your loved one wants to stay at home but needs a helping hand

Whether your senior needs help with meal preparation, housekeeping, laundry, or companionship during the day, an in-home personal caregiver can provide the assistance they need. Senior home care promotes independence, allowing your loved one to continue performing the daily tasks he or she can do for as long as possible.

Your loved one is facing health or mobility challenges

Some health conditions require 24/7 care in a skilled nursing facility, but many mobility and health concerns can be safely and effectively managed at home — while providing family caregivers with peace of mind. In-home personal caregivers can provide medication reminders, transportation to medical appointments, fall prevention, safety assessments, and other services to help your senior manage his or her medical needs.

Your loved one has dementia and wants to remain in a familiar place

If your loved one is living with dementia or Alzheimer's disease, familiar faces and surroundings as well as daily routines may be essential to their well-being. A move to a new facility could upset your senior due to the altered schedules, new caregivers, and change in surroundings. In-home personal care helps your loved one stay safe and receive the customized dementia care he or she needs from a trusted caregiver.

Family caregivers need a break

Respite care provides family caregivers with emotional and physical relief they need, so they can practice proper self-care, concentrate on work or family, manage responsibilities, and avoid caregiver burnout. Respite care can be scheduled for a few hours or weeks so a family caregiver can go to an appointment, take a vacation, manage other family needs, or run errands.

Your aging parents need different levels of care, but they don't want to be separated

When older spouses have different care needs, a senior care facility could separate the couple. One spouse, for example, may need to move into the assisted living wing of the facility, and the other spouse moves into the memory care section. Separation could cause significant distress to seniors who have spent nearly their entire adult lives together.

In-home care can provide an alternate option that allows spouses with more care needs to receive personalized assistance without having to undergo a stressful move or separation. A personal caregiver can provide an added layer of support for the spouse who requires a lower care level. This enables more quality time spent with his or her loved one.

One of your aging parents can no longer meet the care needs of his or her partner

When an older adult has spent a lifetime with his or her spouse, it's only natural to want to care for their ailing partner at home. However, even though one spouse may be healthy, he or she is still aging and may not be able to cope with his or her partner's care needs indefinitely. In severe cases, this can lead to an unsafe environment — for the care recipient as well as the caregiver — and may cause an overall decline in the caregiver spouse's health.
A professional caregiver can keep both older adults in your life safe and healthy in their home. Additionally, your parents can receive customized care for their unique situation.
If you think in-home care might be right for your senior, our Visiting Angels care coordinators are available to discuss your loved one's needs during a free care consultation.