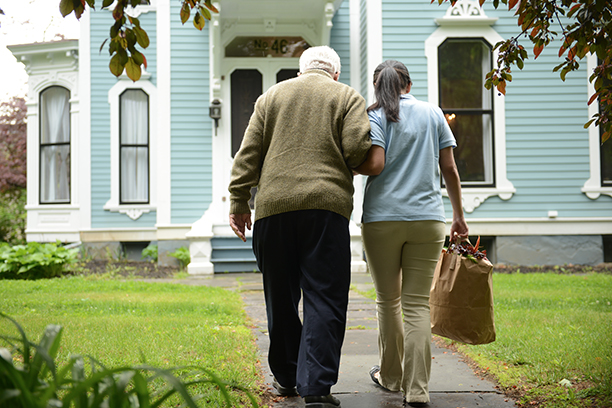 Safety Procedures for Visiting Angels Clients and Caregivers
At Visiting Angels, we're taking every precaution to ensure our caregivers and clients are safe and healthy. Learn more about our offices' response to COVID-19 and the on-going safety measures in place
As an "Essential Healthcare Support Business" our team has continued to work with our clients and caregivers throughout this unprecedented time, allowing us to continue providing our much-needed care to those who need additional assistance and wish to stay in the safety and comfort of their own homes.
To do this, we have put several additional safety measures into place, which we will continue to implement to ensure the well-being of all of our clients and staff.
Masks and Personal Protective Equipment
Our community stepped up in a big way when we received over 1,200 donated cloth masks, made by volunteers in our county. We were able to give all our Home Care Aides multiple cloth masks to be worn at each of their shifts. We were also able to supply masks for any of our clients that requested them.
Additionally, we have supplied our staff with certified KN95 masks, basic medical masks, face shields, gloves, hand sanitizer and wipes for use in the clients' home. We continue to stock these items for all our aides to ensure that we stay current with virus transmission precautions and safety measures as recommended by the CDC (Centers for Disease Control). We continue to monitor our County Health Department, the Department of Public Health and the Department of Social Service's guidelines to ensure that we are up to date with the latest precautionary protocols.
As part of our skills and orientation training, all licensed home care aides complete courses in First Aid, infection control, hand washing and proper transfer technique. In order to supplement these trainings, we have added training courses specific to the COVID-19 including identification and prevention of techniques, and the proper usage and disposal of Personal Protective Equipment (PPE). We have also implemented the CDC recommendations for proper hand washing and sanitation procedures surrounding client care and their living space.
Leveraging Technology
While our technology has always been on the leading edge, we have expanded our abilities to have a much-expanded virtual capability via various platforms like Microsoft Teams, Google Meet, and our own dedicated employee virtual office. This has enabled our staff to have the ability to meet any client, medical provider, caregiver, or referral source face to face online and not in person thereby further mitigating any risk of exposure to all parties.
Our nurses have immediate capability to provide client assessments and re-assessments virtually if appropriate or requested.
Open Communication
Throughout this virus pandemic we have continued to operate at the highest levels of safety and precaution. We have served those who need us every day, without fail and look forward to beginning or re-starting our person to person care services for those in need.
We hope that the additional protocols we have put into effect will give you peace of mind that our client's safety and the well-being of our caregivers is our highest priority.
If you have any questions or would like any additional information about our services and COVID-19 prevention procedures, please feel free to call our office to speak with a member of our staff!
Serving the Central Valley region including Stockton, Lodi, Tracy, Modesto, Manteca, and throughout San Joaquin & Stanislaus Counties
Visiting Angels STOCKTON, CALIFORNIA
3453 Brookside Rd #C
Stockton, CA 95219
Phone: 209-208-4132
HCO #394700004