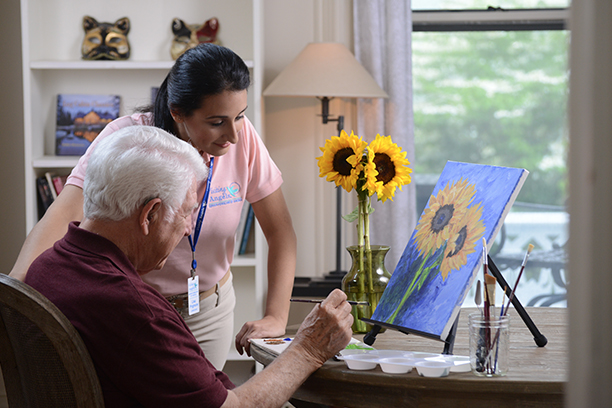 Fall Prevention and Other In-Home Supportive Services for Seniors in San Joaquin and Stanislaus Counties
Our in-home senior services help elderly adults in Stockton, Lodi, Ripon and surrounding areas in San Joaquin County and Stanislaus County, CA avoid fall-related risks and injuries
Visiting Angels Stockton offers fall prevention as part of our in-home supportive services for seniors in the Central Valley region of California. Our goal is to help seniors stay safe by identifying and mitigating fall-related risks around the home. Through our wide variety of home care solutions, we can help your loved one live out their golden years in their own home for as long as they wish.
Falls are a common and devastating issue among seniors. Not only can a fall impact a senior's physical health, but it can also affect their emotional and mental health. Some seniors can even lose the ability to live independently. That's why we focus on keeping clients in San Joaquin and Stanislaus Counties safe with personalized and proactive in-home senior services.
How Can Falls Affect Seniors?
Just how much can a fall impact a senior's life? Studies have shown that even falling once can drastically change the life of an older adult, especially if they've been living on their own.
Here are some statistics about the impact of falls:
One in three older adults falls every year
One in five seniors who fall will sustain a serious injury such as a broken hip, fracture or concussion
Seniors who have fallen at least once are more likely to fall again
Over 800,000 seniors a year are hospitalized for fall-related injuries
Recovery from fall-related injuries can take up to a year in a long-term care facility
Many seniors who fall never go home again
Naturally, many seniors worry about what will happen if they were to fall. If your loved one fears a fall-related injury, they may choose to isolate themselves in their own home, missing out on chances to socialize or attend functions with friends and family. Although they may think they're protecting themselves, this sort of behavior can lead to feelings of anxiety, loneliness and depression, which can lower your loved one's quality of life.
What Causes Seniors to Fall?
There are many factors that can lead to a fall, especially for seniors. Some of these factors include:
Physical and medical conditions like Parkinson's or arthritis
Hazards in the home
Poor eyesight
Side effects from medications
Dehydration
Lack of grab bars and other assistive devices
And more
Fortunately, many of these risk factors can be mitigated or completely removed with in-home supportive services from Visiting Angels Stockton. Our fall prevention services can help your loved one live confidently in their own home and give you peace of mind.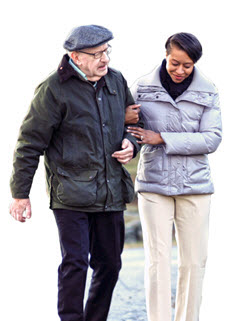 How Can Fall Prevention from Visiting Angels Stockton Help My Loved One?
Here are some of the ways our in-home supportive services can help your loved one stay safe:
We can plan and prepare meals so your loved one doesn't feel weak or faint from hunger or dehydration
We can make sure your loved one takes their medication properly and monitor them in case they show any side effects
We can help your loved one safely move around the house
We can monitor your loved one overnight and make sure they stay safe
We can assist with light housekeeping to remove any clutter that can cause your loved one to fall
We can assist your loved one with getting in and out of the tub so they don't slip
We can take your loved one to medical appointments so they can get diagnosed with any health issues that can increase their risk of falling so they can receive directions on managing their condition
The goal of in-home supportive services from Visiting Angels is to help seniors in San Joaquin County live at home for as long as they wish. By helping seniors avoid fall-related risks and injuries, we help seniors stay safer and healthy for much longer.
If our in-home senior services can help your loved one stay safe, contact our Stockton, CA office at 209-208-4132 today.
Serving the Central Valley region including Stockton, Lodi, Tracy, Modesto, Manteca, and throughout San Joaquin & Stanislaus Counties
Visiting Angels STOCKTON, CALIFORNIA
3453 Brookside Rd #C
Stockton, CA 95219
Phone: 209-208-4132
Fax: 209-952-3901
HCO #394700004
Download Your Free Safe & Steady Fall Prevention Resource Guide today.