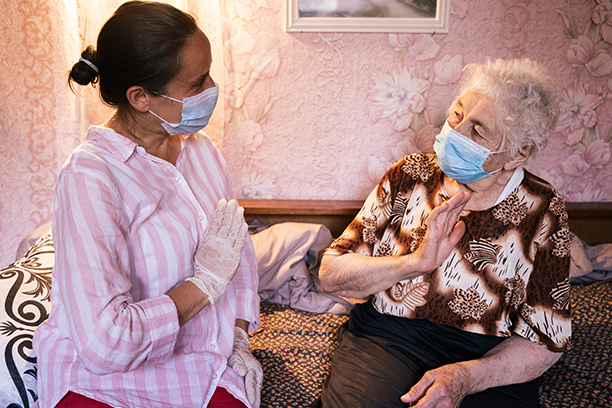 What Are My Options for Long-Term Care in San Joaquin and Stanislaus Counties?
When an elderly family member begins to struggle with living on their own, families frequently take on the position of caregiver. If your senior loved one has a chronic illness or condition, providing the care they require may become increasingly difficult. If this is your circumstance, know that Visiting Angels Stockton can provide the care your loved one requires while also providing you peace of mind.
Visiting Angels, in addition to providing temporary and short-term senior care services, also provides long-term care options in Stockton, Tracy, Morada, Lodi, Ripon, Modesto and throughout California's Central Valley region. When you rely on our professional, registered care providers, you can rest assured that your loved one is in good hands.
Why Families in San Joaquin and Stanislaus Counties Choose Visiting Angels Stockton
There are numerous options available in the Central Valley region for seniors who require care and support for more than a few hours per day. When family caregivers are no longer able to offer the amount of care that their loved ones require, assisted living facilities and nursing homes were once popular options. Residential institutions, on the other hand, can make seniors feel as if they no longer have the freedom they previously did. This is one of the reasons why in-home care is becoming a more popular option for older adults. The challenge now is to select an agency that can give the care your loved one requires to live in their own home for as long as they require.
When you choose Visiting Angels for long-term care, you are choosing a home care company that focuses on providing seniors with personalized, one-on-one care. We recognize that no two seniors have the same needs, so we don't believe in a "one size fits all" approach to in-home care. Our staff will collaborate with your family to develop a care plan that incorporates the services that your loved one requires. Furthermore, we will work with your loved one's schedule to ensure that they receive the care they require when they require it the most.
We encourage clients to select their favorite caregiver from our staff based on their needs, personality, and other factors. As a result, Visiting Angels can provide the level of care your loved one requires to age in place comfortably and safely.
Long-term care is most beneficial to seniors who have advanced age-related difficulties or who have a chronic ailment. Our caregivers can support your loved one in managing their symptoms, assisting with Activities of Daily Living (ADLs) such as meal preparation and housekeeping, and increasing the number of "good days" your loved one has. Long-term care also benefits those who are suffering from dementia. Our caregivers can alter their approach based on your loved one's well-being and how far their dementia has progressed because our services can be adjusted at any time.
How Long-Term Care Insurance Can Help
We recognize that long-term care for a senior loved one is not affordable for every household. Many adults in their 40s and 50s look into long-term care insurance, which can be used to offset the cost of care throughout your loved one's golden years.
If you believe your loved one has this type of insurance policy, we can work with you to see if it will cover the cost of our home care services.
Furthermore, because our care plans are totally personalized, you will not be paying for services that your loved one does not require in order to remain independent. Our goal is to strike a balance between high-quality care and affordable care.
If long-term care from Visiting Angels sounds like the right solution for your senior loved one, contact our Stockton, CA office at 209-208-4132 to schedule a free in-home consultation!
Serving the Central Valley region including Stockton, Lodi, Tracy, Modesto, Manteca, and throughout San Joaquin & Stanislaus Counties
Visiting Angels
STOCKTON, CALIFORNIA
3453 Brookside Rd #C
Stockton, CA 95219
Phone: 209-208-4132
Fax: 209-952-3901
HCO #394700004